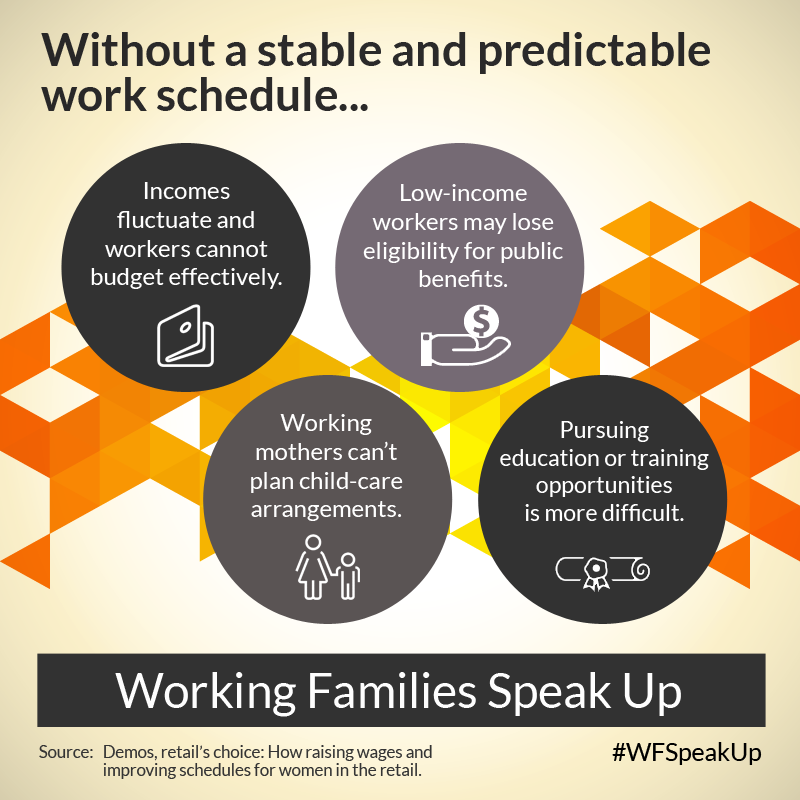 On Tuesday, Reps. George Miller (D-Calif.) and Rosa DeLauro (D-Conn.) introduced the "Schedules that Work" Act to provide federal guidelines for making sure that employers offer fair, flexible and reliable schedules for working families who are often left in difficult situations because of erratic employer scheduling. Miller said the act is about "dignity" and ensuring workers can earn a decent living and meet family responsibilities.
Scheduling problems are particularly glaring in some of the fastest-growing and lowest-paying industries in the United States, including retail, food service and janitorial work. The United Food and Commercial Workers (UFCW) President Joe Hansen explained the problem in more detail:
If you ask a worker in the retail industry what improvements can be made to their job, the response is likely to include scheduling. Fair, flexible and reliable scheduling is a simple way to ensure workers are treated with dignity and respect. In a perfect world, employers would view workers as human beings with competing life demands rather than numbers on a balance sheet. But in reality, scheduling is more erratic than ever.
Here are 11 ways the act would improve the lives of working families. It would:
1. Give employees the right to ask for schedules that better meet their professional and family needs: Workers would have the right to request more flexible or more predictable schedules, request more or fewer work hours and ask for minimal fluctuations in scheduling. Employers would be required to consider and respond to schedule requests.
2. Give employees with specific needs more protections: Scheduling requests for priority reasons would have to be granted by employers, if possible. Priority reasons include health conditions, child care, elder care, a second job, education or job training.
3. Protect workers from retaliation: Employers would be prohibited from punishing workers for their work requests.
4. Require reporting pay: Often workers are called in to work, only to be sent home or put on call without pay or guarantee of work. The law would require employers to provide at least four hours of wages for employees who report to work when scheduled for shifts of four hours or longer and are sent home before four hours of work.
5. Require call-in pay: For employees that are required to call in less than 24 hours before a shift and are not allowed to work for at least four hours, employers would be required to pay them at least one hour's wages.
6. Require split-shift pay: Workers who are required to work nonconsecutive hours would be paid an additional hour's wages for time spent between shifts waiting to work.
7. Require employers to provide employees with clear expectations about hours and scheduling: As part of working a job, employees would be provided with a general idea of the schedules and number of hours they will be working and employers would be required to tell workers about changes in advance. Short-notice changes would require additional pay.
8. Help women have more ability to meet work and family responsibilities: Women workers make up the majority of low-wage jobs that would be affected by the bill, and improving their scheduling would make it easier for them to meet both work and family responsibilities.
9. Provide students with increased flexibility in pursuing higher education: According to CLASP, unpredictable scheduling limits class choice, the number of classes taken, class schedules and access to campus facilities, all of which slow down student progress toward graduation.
10. Benefit the economy: Unreliable and unpredictable scheduling is a drain on workforce productivity and increases turnover. Making schedules more reliable would help reduce both of these problems, which would increase business profits and help create more jobs.
11. Benefit businesses, too: More reliable schedules also would contribute to higher job satisfaction, higher organizational loyalty, higher worker performance and productivity, lower absenteeism and lower turnover.
Hansen said UFCW supports the act:
This legislation would ensure all workers have the rights fought for and won by UFCW members for decades. Our contracts have long guaranteed predictable and adequate scheduling. The law of the land should do the same. I urge Congress to pass the Schedules that Work Act as soon as possible.