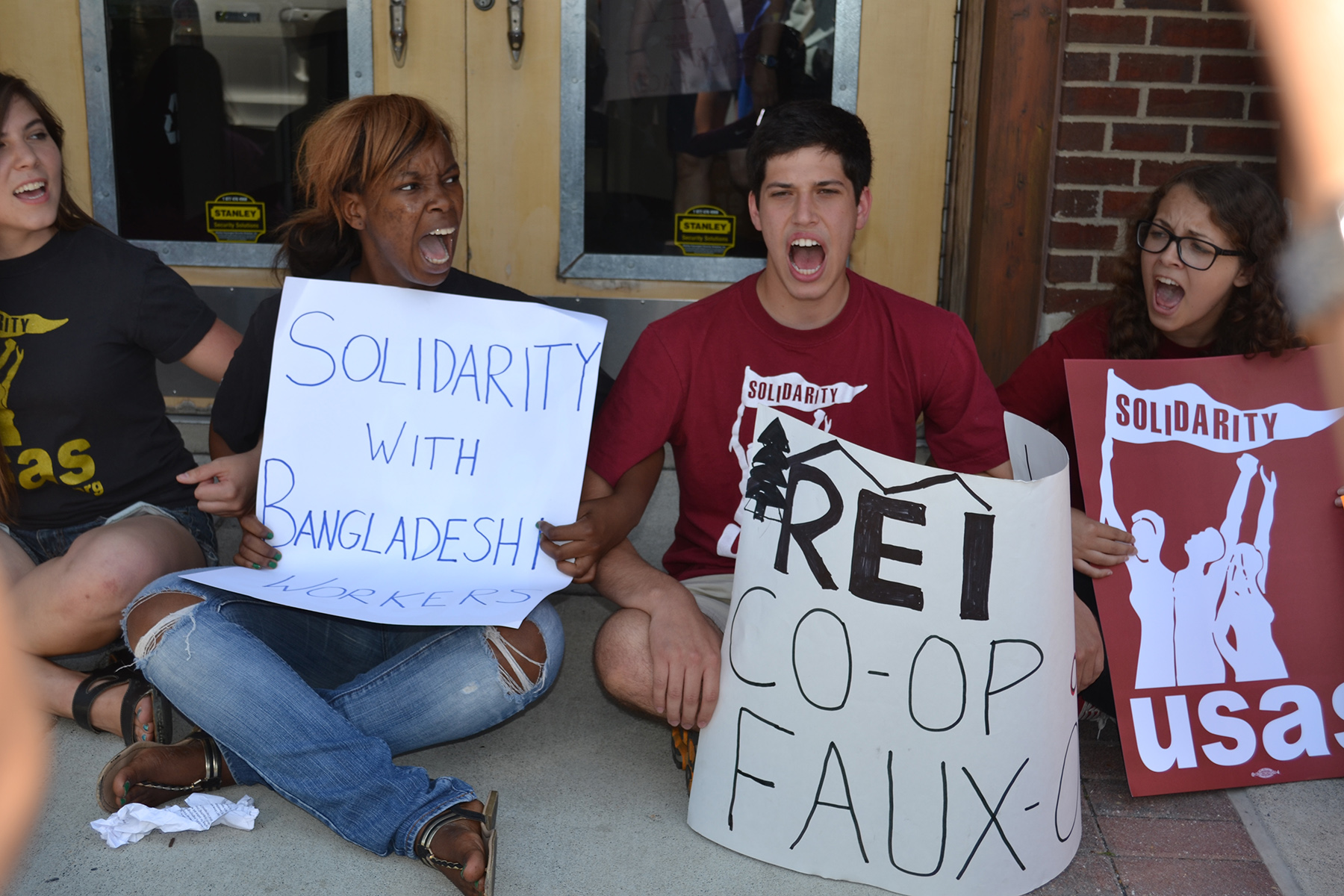 On Saturday, 20 activists were arrested during a protest outside Recreational Equipment Inc. (REI) in Rockville, Maryland. Students and community leaders came together to demand REI stop stocking The North Face, whose parent company VF Corp. has been linked to serious ongoing labor violations in Bangladesh, including a deadly factory fire in 2010 that claimed at least 20 lives. Despite repeated incidents and issues, VF Corp. has refused to sign the Bangladesh Accord on Fire Safety (the Accord).
United Students Against Sweatshops (USAS) activists are targeting VF Corp., one of the largest apparel companies in the world, for its failure to sign the Accord and make a binding commitment to improve the factories that produce its goods. VF Corp. owns 36 brands, including The North Face, JanSport, Vans, Timberland, Wrangler, Lee and Nautica, and produces many products in factories in Bangladesh, where there have been deadly fires and other serious safety issues. In December 2010, 20 workers lost their lives in a fire at That's It Sportwear. Much like the fire that claimed more than 100 lives at the Tazreen factory in Bangladesh, workers were put at risk by illegal construction and shoddy wires, and then trapped because the building had no proper fire escapes and many of the exits were locked. VF previously had inspected the building, but did nothing to remedy the violations. In June of this year, another fire at a different factory injured 50 workers.
USAS is calling on REI to ensure it purchases products from VF Corp. that have been made in safe factories in Bangladesh. The students asked REI to sever ties with VF Corp. if it refuses to sign the Accord.
Sign a petition demanding VF Corp. sign the Bangladesh Accord.