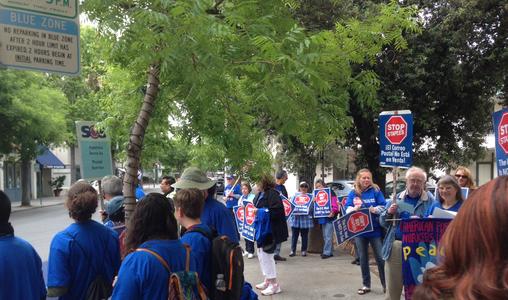 In our new regular feature, we'll be taking a look at the villains who are doing their best to prevent the United States from raising wages for all or some Americans. In this series, we're going to look past the usual suspects—for example, while it is true that too often elected officials get in the way of a fair economy, we want to dig deeper.
This week, we're focusing on Staples, the office supply chain store, and the United States Postal Service (USPS). Staples and USPS have teamed up to scheme a privatization deal of retail post office operations. USPS is contracting services to Staples, with "postal counters" staffed with low-wage, nonunion, high-turnover Staples employees rather than postal employees who have a voice on the job through their union, Postal Workers (APWU).
The USPS began contracting out postal services to Staples in October. So far, 80 Staples stores are part of the pilot program. But the USPS plans to expand the scheme to 1,500 Staples locations nationwide. What's really cynical about this pilot program is that USPS is hoping the convenience of Staples' longer hours is a draw for customers, while it simultaneously eliminates regular public post offices and reduces their hours.
APWU members have been speaking out against this privatization scheme all over the country in rallies and actions outside Staples pilot program locations. Some APWU members even held proxies and were able to attend the Staples shareholders meeting in early June.
The AFL-CIO and several major unions have endorsed the APWU boycott of Staples. If you want to send a message to Staples CEO Ron Sargent that you will not shop at Staples until this program has been canceled or it decides to hire employees of the U.S. Postal Service at these counters, sign a postcard here.
For continuing the trend of taking good, stable jobs and turning them into low-wage professions, Staples and USPS are our low-wage villains of the week.