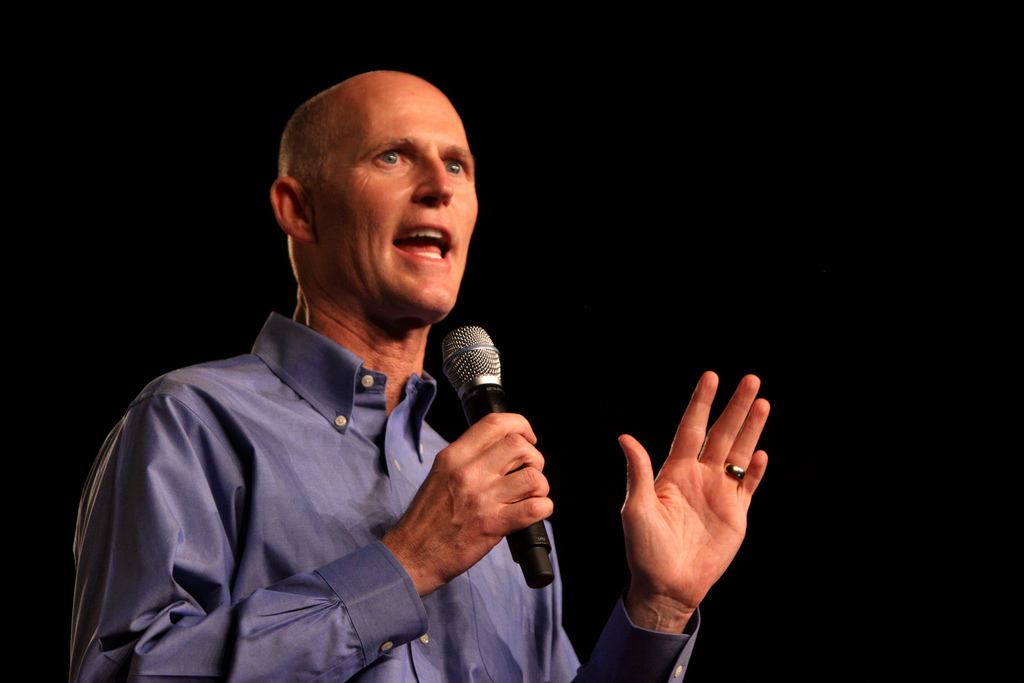 It's an election year and we are quickly approaching the time when working families will have the opportunity to go to the polls and vote against a whole host of extreme candidates who support policies that limit rights, make it even harder to afford a middle class life and pad the pockets of their corporate buddies. Our first member of the Worst Candidates for Working Families in the 2014 Elections is Florida Governor Rick Scott. Here are six reasons why Scott has been a bad governor for working people.
1. While working families know our incomes are falling behind the cost of living, Scott rejects policies that would raise wages. "When I hear a politician say that we have to raise the minimum wage so working families can make ends meet, I cringe," he said. Scott also expressed disappointment that a judge increased the state's minimum wage by 6 cents an hour (to an underwhelming $7.31) after the state employment agency miscalculated it. [Miami Herald, 1/8/14; Associated Press State & Local Wire, 5/3/11]
2. While we are busy trying to balance work and family in ways that provide financial stability, Scott is doing his best to make that harder for us. He signed a bill that pre-empted local governments' rights to pass laws that require paid sick leave for workers. [Bay News 9, 6/14/13]
3. One of the primary ways that working families have dealt with a bad economy is for mothers to re-enter the job market. Scott vetoed funding for a program that helps women find jobs after being out of the workforce for long periods of time. The Displaced Homemakers Program has been successful for 37 years, but Scott vetoed $1.8 million for the program. [Sun Sentinel, 7/2/13]
4. Despite promises to create 700,000 new jobs in Florida in his first term, Scott has no chance of reaching that goal after pursuing policies that did little to create jobs. "Florida is going to come nowhere near exceeding normal job growth by 700,000 in seven years, no matter how you define it or time it," said David Denslow, a retired University of Florida economist. [Miami Herald, 12/10/13]
5. Building infrastructure would've been a good way to start creating those jobs. Scott rejected $2.4 billion in federal funds to help build high-speed rail. Other states readily snapped up the funds and started creating jobs. [Tampa Bay Times, 2/16/11]
6. Workers didn't play a role in the financial crash that led to the Great Recession, but millions of us lost our jobs because of it. Scott signed legislation making it harder for unemployed workers to keep their homes or support their families. According to the Orlando Sentinel, "Key provisions include a reduction in the maximum number of weeks that unemployment is available under the state program. Total weeks drop from 26 to 23 weeks. The law also ties maximum weeks available to the statewide unemployment rate." [Orlando Sentinel, 06/28/11]
Make sure you're ready to vote this election season and text VOTE to 235246 for important reminders and updates.