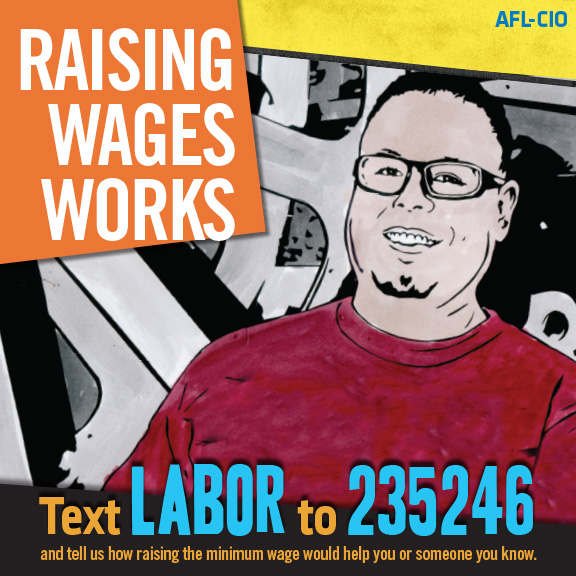 Yesterday, we asked you how raising the minimum wage would affect you and the people you know. We've had a huge response from our AFL-CIO mobile supporters. Here's a small sample of what you've said so far.
Don't forget you can still send us your story by texting LABOR to 235246.
I can finally get off food stamps and heat and energy assistance. I work 4-plus hours a week and have 10-plus years' experience. A world of differences would be in my life.
I myself. If the minimum wage would be raised, I would not have to live in an abusive relationship. I don't make enough money to be able to get out on my own.
Yes, I would be affected personally by the minimum wage increase. Increasing the minimum wage would allow me to get back to school and continue my education!
Yes, my son would be affected. He is a single dad, works 40 hours per week but still struggles to provide a home and pay his bills. His quality of life would improve.
My daughter is a waitress. She is also a single mom. She has a really hard time making ends meet. The minimum wage for tipped workers is shameful.
Even as a college graduate I am often stuck in sorry low-wage jobs paying barely $8 an hour and that offer, at best, irregular part-time hours and no benefits.
I have dozens of friends that would be able to pay their bills and invest in the future of their families if the minimum wage started to become a living wage.
As a landlord it would benefit my tenants, myself and surrounding business. My tenants that currently struggle to pay rent, a pay raise would help them.
Yes, my children, who are also parents trying to make ends meet. My son who is a vet and my daughter is currently enrolled in school.
I live in the Bronx where the politicians tell everyone employment is getting better, but all I see is Wall St. and the bankers doing well.
Everyone who works for hourly or any wages will benefit from the boost that the economy gets when low-wage workers have more to spend.
It would help my two brothers greatly. They both are security guards, and they only make $7.20 an hour to protect someone's property. Is that all it's worth to them?