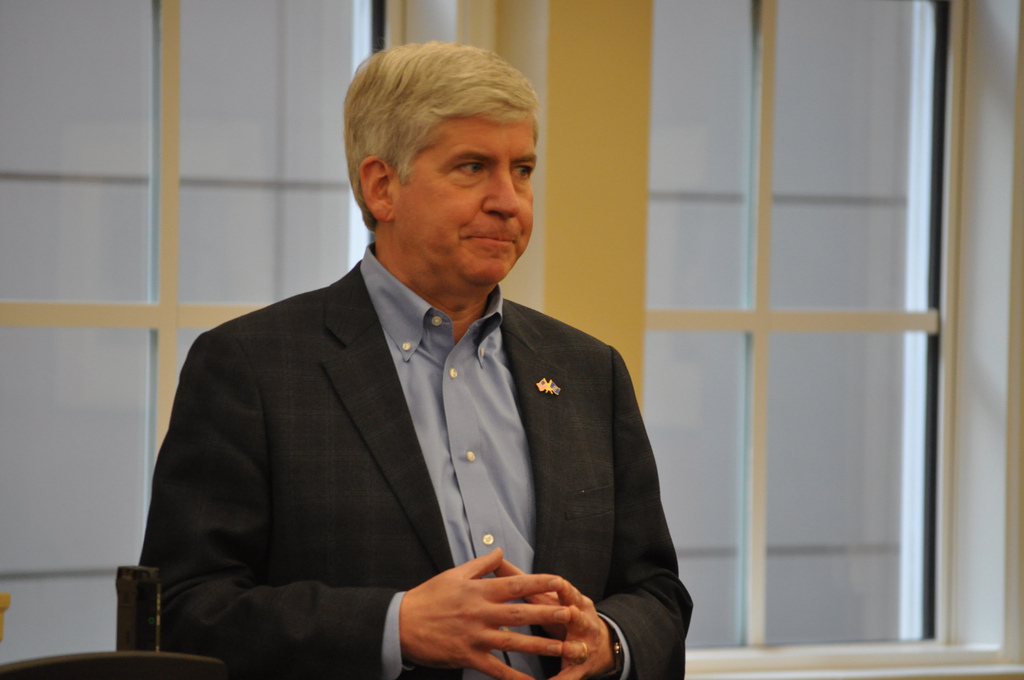 It's an election year and we are quickly approaching the time when working families will have the opportunity to go to the polls and vote against a whole host of extreme candidates who support policies that limit rights, make it even harder to afford a middle-class life and pad the pockets of their corporate buddies. One of the "Worst Candidates for Working Families in the 2014 Elections" is Michigan Governor Rick Snyder. Here are five reasons why Snyder has been bad for working people:
1. Snyder signed into law two bills (one applying to public workers, one to private workers) that bypassed the normal committee process and public input period and made the state a "right to work" state, which, in reality, just means that the balance of power in the state favors wealthy CEOs over workers even more than it already did. [The Huffington Post, 12/11/12]
2. During a time of high unemployment because of wild Wall Street risk-taking, Snyder signed legislation cutting unemployment benefits, corporate taxes and workers' earned benefits. He's also cut the budget, workers' compensation and regulations that protect Michigan residents. [Grand Rapids Press, 1/20/14]
3. Despite the increased need for education in tough economic times, Snyder cut funding for schools while making sure to fund tax breaks for big corporations. According to the Detroit Free Press, "And then, to add financial insult to injury, Gov. Rick Snyder cut higher education funding by 15% in his first budget, in part to pay for a big business tax cut." [Detroit Free Press, 7/2/13]
4. While he has a seemingly endless desire to cut taxes for big corporations and the wealthiest residents of the state, he cut back on tax credits that working families depend on (like the homestead property credit, Earned Income Tax Credit and the child tax credit) and added new taxes to retiree pensions. [MLive, 8/23/13]
5. Snyder refuses to listen to the will of the people, even on issues that directly affect them. In November 2012, voters repealed the emergency manager bill that Snyder had previously signed, which takes away power from officials elected by the public. Snyder and his cronies in the legislature quickly passed a new version of the bill that prevents citizens from repealing it a second time. [The Huffington Post, 12/27/12]
Make sure you're ready to vote this election season and text VOTE to 235246 for important reminders and updates.