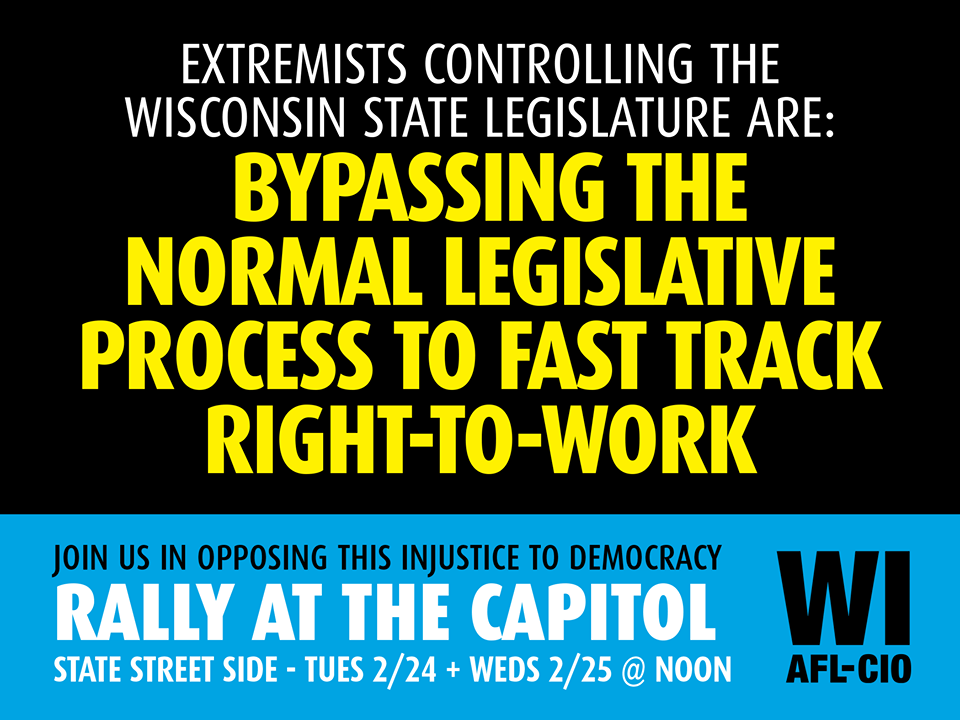 The news from Wisconsin, during Gov. Scott Walker's era, is once again bad for working families. The legislature is not only planning to introduce "right to work" legislation this week, it intends to Fast Track it, and Walker said he intends to sign it. Before we get into the reasons why right to work is wrong for Wisconsin (and everywhere else), here are a few steps you can take right now if you care about the future of Wisconsin and its workers:
You can follow the rallies and the story on Twitter with the hashtags: #wipolitics, #righttowork and #wiunion. If you need more information before participating, here are eight reasons why right to work is bad for Wisconsin's working families. Right to work laws:
1. Make it easier for CEOs to cut health and safety protections for workers. Workers in right to work states are twice as likely to die on the job as workers in states without such laws. Wisconsin already has a higher job fatality rate than the national average. In 2013, 96 workers lost their lives on the job in Wisconsin.
2. Increase risk of on-the-job injury. Wisconsin workers already are at a higher risk of injury at work, with a rate much higher than the national average. In 2013, Wisconsin workers suffered more than 85,200 work-related injuries and illnesses. Employees in foundries, wood products manufacturing, transportation, nursing homes, as well as the police and firefighters, are particularly likely to be hurt at work.
3. Lower wages and health insurance coverage for workers, thus increasing poverty and infant mortality.
4. Decrease investment in education.
5. Undercut the ability of unions to bargain for safety standards and rights stronger than the Occupational Safety and Health Administration's (OSHA's) standards.
6. Limit the ability of unions to encourage compliance with worker protections, which unions do through collective bargaining agreements, member training and education, and workplace safety and health committees within the unions. Evidence shows that union workplaces have a much stronger enforcement of job safety rules than nonunion workplaces.
7. Weaken the protections for workers who are retaliated against for raising job safety concerns.
8. Make Wisconsin even more unsafe than it already is for workers. Currently, under the federal OSHA law, only 36 inspectors are available to check out 159,000 workplaces, meaning OSHA can only inspect each workplace once every 104 years. Similarly, the state's penalties for job safety and health violations are too low. In fiscal year 2013, the average penalty for a serious safety violation was only $2,207. For killing a worker, it was only $3,000. Such low figures offer little deterrence.
Well aware of these facts, AFL-CIO President Richard Trumka condemned the Wisconsin push:
The effort to lower wages in America is going to reach new heights in Wisconsin this week. Wall Street billionaires and political extremists are joining together to force a vote on right to work legislation, which is wrong for Wisconsin's hardworking families. This is a blatant attempt to silence workers' voices to stop us from speaking out about lower wages and mistreatment at work.
In America, we have a strong tradition of having each others' backs. Right now, workers from throughout Wisconsin and across the country are gathering in Wisconsin to fight back, together. They are using the tool Gov. Walker is most afraid of: their collective voice.
This right to work sham is about much more than unions. It is simply the next step in the billionaire right wing's attempt to strip our freedoms to bargain with our employers as we see fit, ensure safe workplaces and raise wages across the country. Billionaires like the Koch brothers and the Walton family are engaged in a systematic attempt to dismantle our economy by lowering wages, while lining their pockets with record profits.