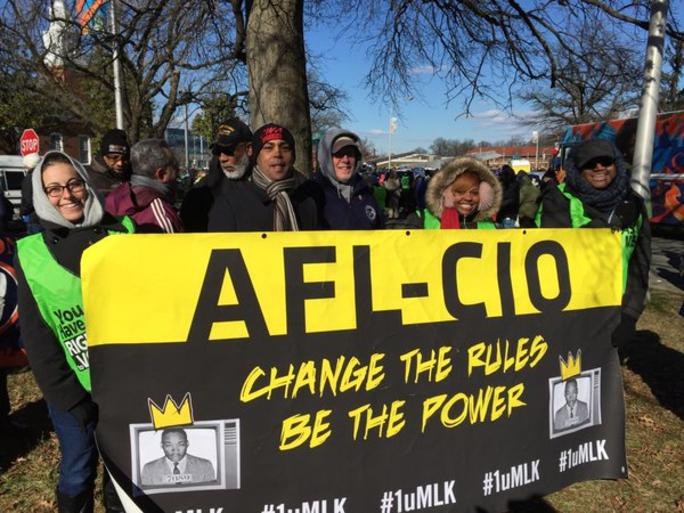 Every week, we'll be bringing you a roundup of the important news and commentary about issues and events important to working families. Here's this week's Working People Weekly List:
AFL-CIO Seeks to Curb Payouts to Bankers Who Go to Washington: "Big Wall Street banks are pushing back at an attempt by the AFL-CIO to ban an executive perk that rewards executives who leave their posts for jobs in the government. So-called government service golden parachutes allow bank executives heading for top government jobs to be paid their unvested stock and equity awards when they leave, rather than forfeit them as they normally would at resignation. The labor organization said on Wednesday that it was seeking to ban the practice at Citigroup, Goldman Sachs, JPMorgan Chase, Morgan Stanley, Lazard and Bank of America."
Upheaval in the Factories of Juarez: "The protests come at an inopportune moment for the U.S. as well. When Congress gets around to debating the Trans-Pacific Partnership, it will surely look at NAFTA and the promises that treaty made for American and Mexican workers. The situation of the workers in Juarez makes it clear that NAFTA didn't improve conditions as promised, and implies that TPP won't work, either, said Cathy Feingold, the director of the International Department at the AFL-CIO. In addition, with little hope for U.S. immigration reform, the U.S. will have to recognize that it creates its own migration problems by allowing companies to treat workers so poorly just across the border, she said. When workers can't make a decent wage in their own country, they'll try to cross the border, she said."
Labor Issues Call for Racial Unity: "Saying of the economic and political elite, "When they divide us up, they can beat us. When we stick together, they can't," AFL-CIO (link is external) President Richard Trumka declared workers of all races, classes and genders must unite to reclaim the future. That means uniting around a common agenda of raising incomes and equality for all, regardless of race, color or sexual orientation, he said. But that unity should not obscure the fact that a difficult and honest discussion on race must continue, Trumka added. Trumka's comments about the need for unity came during a question-and-answer session at the opening of the AFL-CIO's annual Martin Luther King Conference, a tree-day event from Jan. 15-17 in Washington, D.C. Other speakers repeated his themes, with variations."
Challenging Plantation Capitalism: Rev. Barber's Holy Cause: "From the very beginning of Rev. William Barber's ministry in the state of North Carolina that we now know as Moral Mondays, he has challenged his fellow North Carolinians to remember their heritage. Not the racist myths of the Old South but a genuine progressive heritage that produced in North Carolina the South's finest public universities, paved roads and established public libraries at a time when so many of the other states of the South made private wealth and public squalor their operating principle."
People of Color Deserve to Work and Live with Dignity: "Black people have contributed, both voluntarily and enthusiastically, to America's economic growth. People of color work hard, low-earning, thankless jobs as domestic workers, and landscapers with little security, and often with no retirement or health care. Today, the workforce is more stratified than ever, with white working people earning astronomically higher wages than anyone else and gatekeeping access to high-paying jobs. All of this notwithstanding, black people aspire and work toward a better life, sharing Dr. King's vision for parity and equal pay for equal work."
Yearning to Breathe Free: "I believe the debasement of such principles in politics today is not just repugnant, it is un-American. To propose barring all Muslims from entry into the United States at a time when millions are seeking refuge from the carnage and chaos of war, fleeing terror themselves, is an affront to our founding values. The calls to close mosques and to create a national database of Muslims echo decades-old xenophobia, once directed at Jews, Italians and other "outsiders" who would become integral parts of the American fabric. And it's just as wrong today."
Hate Costs Workers Dearly: "The GOP debate last week featured more immigrant bashing with the party's front-runner, Donald Trump, reasserting his plan to construct a wall – this one a religious barrier preventing Muslims from getting into the country. Trump has mocked a disabled journalist and Asian speech patterns, demonized undocumented immigrants as rapists and approved violence against a Black Lives Matter protester. And he's no outlier in the GOP. Chris Christie said he'd block even five-year-old orphaned Muslims from entering the United States. Ted Cruz denigrated gay people, urging states to ignore the U.S. Supreme Court ruling on marriage equality."
One Union Summer Later, Three Found Their Calling as Organizers: "Meet Tarah Taylor, Lynda Berg and Shaine Griffin from the class of Union Summer 2014. These superstar summeristas are working alongside nurses, and one another, as union organizers with California Nurses Association/ National Nurses United in the fight for working people. Now the three of them work together in Southern California, and Shaine and Tarah are even roommates."
By Our Hands: A Sex Advice Columnist Says Unions Are Great: "Today, the AFL-CIO is launching a new online magazine through Medium called By Our Hands. This new feature will highlight the stories of working people and national figures—and some that may come as unexpected such as from sex advice columnist and gay rights activist Dan Savage in the first offering. This periodical publication will include content from the AFL-CIO and contributing authors. Make sure to check it out often, and we'll be sure to pass along some of the top content as it comes."
New Report: A Year of the Raising Wages Agenda: "Marking nearly one year since the first-ever Raising Wages Summit, the AFL-CIO today released a new report detailing the successes, struggles and path ahead to raise wages for working people."
Talk About Your Salary in the Fight for Pay Equality: "Something we can do right now to combat pay inequality in the workplace is talk with our co-workers about our salaries. While Congress works to pass the Paycheck Fairness Act to address the multiple barriers to pay equality, knowing our rights could help us now."
Change the Rules, Be the Power: Highlights of the Martin Luther King Jr. Civil and Human Rights Conference: "This past weekend, more than 1,000 participants attended the 2016 AFL-CIO Dr. Martin Luther King Jr. Civil and Human Rights Conference, the largest edition of the conference yet. This year's theme was Change the Rules, Be the Power, and here are some social media highlights of the conference."
Supreme Court Should Approve Policies that Will Provide Much-Needed Relief to Immigrant Working Families: "We applaud the Supreme Court's decision to take up the DAPA and expanded DACA case, which will have profound consequences for our immigrant brothers and sisters who live and work every day under a cloud of fear, as well as for the state of racial and economic justice in our country. We are confident that the court will reverse the 5th Circuit and allow the DAPA and expanded DACA policies to go into effect, affording millions of people the opportunity to apply for work authorization and temporary protection from deportation. We encourage the Department of Homeland Security to take all steps necessary to ensure these much-needed policies can be implemented as soon as possible after the court issues its decision this summer."
5 Important Quotes from Working People Speaking Out Against the TPP: "The deadline for public comments on the employment impacts of the Trans-Pacific Partnership ended Jan. 13, and more 8,400 working people spoke out against it. Here are some highlights from the comments submitted to the U.S. Trade Representative (after the jump)."