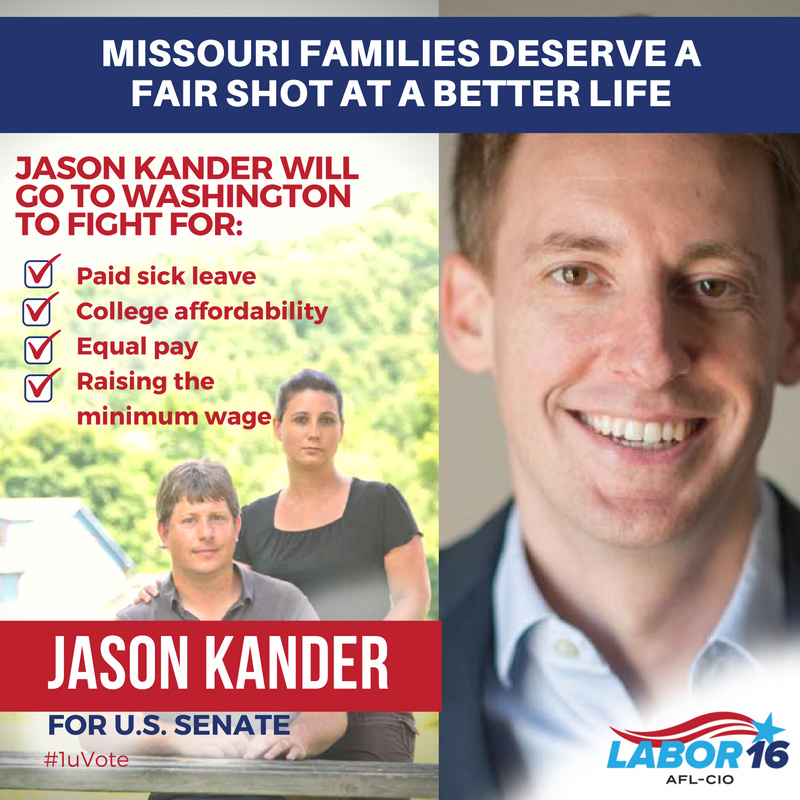 Jason Kander is firing up the imagination of the citizens of the Show Me State and hoping to wrest the Senate seat from Republican Roy Blunt.
Kander, an army captain who served his country in Afghanistan, is a former union member of the United Transportation Union, where he represented other members hurt on the job. Now he wants to serve all Missourians in the U.S. Senate.
Kander is a strong advocate for Missouri's working families and would continue that tradition in Washington, D.C. Here are some reasons why working people are getting behind Kander:
He Opposes Bad Trade Deals. Kander has blasted the Trans-Pacific Partnership trade agreement as a "bad deal for Missouri." Kander will vote against trade agreements that will ship Missouri jobs overseas.
He Supports Raising Wages. Kander supports raising the minimum wage, paid sick leave, affordable child care and equal pay for equal work, so that working families in Missouri are treated fairly.
He Has Pushed Strong Ethics Reform. Kander has pushed through the first campaign finance reforms in Missouri since 1991 and has sought to ban all lobbyists' gifts to lawmakers.
Working people in unions have come together and endorsed Jason Kander.
Learn how to get involved this election at WorkingAmericaVotes.org.