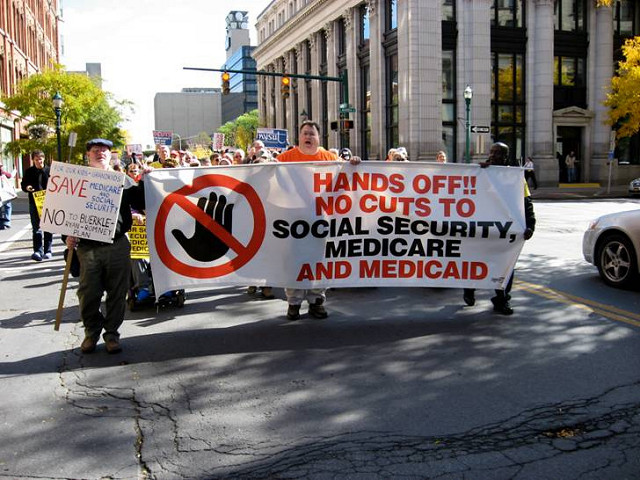 Tonight is the third and final presidential debate, and we hope that the nominees will finally discuss the issues facing older Americans: expanding Social Security, strengthening Medicare, protecting earned pension benefits and reining in the skyrocketing prices of prescription drugs.
Fifteen percent of the U.S. population is older than age 65. That number is expected to grow to 20%, or 1 in 5 people by 2030. Ensuring that all Americans have a secure and healthy retirement after a lifetime of work should be at the top of the next president's agenda.
Fox News' Chris Wallace, who is moderating tonight's debate, has said he plans to ask the nominees about "debt and entitlements," which provides an opportunity for them to outline their plans for Social Security and Medicare.
The timing couldn't be better. Yesterday, the Social Security Administration announced that the average retiree would receive a meager $5 per month cost-of-living adjustment in 2017, which is simply not enough to make ends meet. This comes after no COLA in 2016.
The average retired worker's annual Social Security benefit was $15,983 in 2015—not a bonanza by any stretch. Yet it was enough to lift more than 14 million Americans aged 65 or older out of poverty in 2014.
But even if the news media continues to ignore retiree issues, we know that Secretary Hillary Clinton stands with working people in wanting to expand Social Security, protect Medicare and tackle skyrocketing prescription drug prices.
Hillary Clinton told us herself, in a video she made just for the members of the Alliance for Retired Americans. Click to watch the video now.
Donald Trump—or Chris Wallace—is likely to repeat falsehoods about these important programs. We all need to make sure that they don't get away with it, so here are some facts:
Social Security is not an "entitlement." It is a modest, guaranteed benefit earned through a lifetime of work. Despite right-wing scare tactics, there is no Social Security crisis. By asking millionaires and billionaires to contribute their fair share to the system, we can expand benefits and strengthen the trust fund for future generations.
The Democratic Platform calls for expanding Social Security. The Republican platform, in contrast, calls Social Security an outdated program and says all options "are on the table." Its leaders, especially House Speaker Paul Ryan, are committing to replacing guaranteed earned benefits with risky, private accounts, raising the retirement age and means testing benefits.
Donald Trump has called Social Security a "Ponzi scheme" and has surrounded himself with advisers who are committed to cutting it.
Americans pay the highest prescription drug prices in the world, and the drug prices are increasing at twice the rate of inflation. This hasn't happened by accident. Only Hillary Clinton has offered a comprehensive plan to make prescription medicines more affordable and curb the monopolistic practices and profiteering of large pharmaceutical corporations.
With less than three weeks until Election Day, Alliance members are working hard to make sure current and future retirees know which candidate will protect our earned benefits and fight for a secure retirement. We hope you will join us.