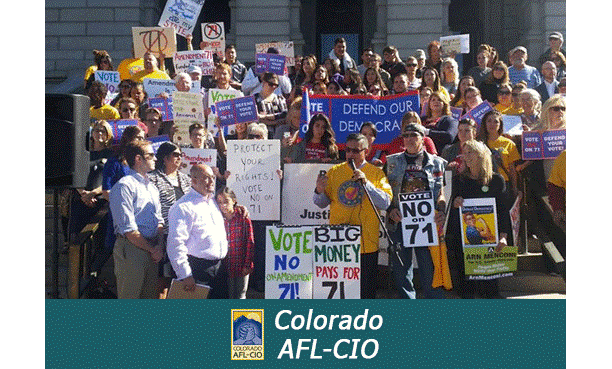 When they aren't on the job, working people put their time and effort into helping our community and working for the issues and political leaders who fight for us. Here are some recent examples of working people in action:
Missouri AFL-CIO Canvasses Against Amendment 6: The Missouri AFL-CIO canvassed with religious leaders and community activists to educate Missourians about the dangers of the Amendment 6 ballot question, also known as the Missouri Voter ID constitutional amendment.
New Jersey State AFL-CIO Hosts Labor Walks: The New Jersey State AFL-CIO is hosting labor walks every weekend through the November elections to educate voters on union issues and labor-backed candidates.
Colorado AFL-CIO Rallies Against Amendment 71: The Colorado AFL-CIO rallied against Amendment 71, which would require signatures for constitutional amendments to be gathered from each state Senate district. Electrical Workers (IBEW) Executive Director Sam Gilchrist explained, "Amendment 71 goes against a core principle of the labor movement: the ability for working people to speak up together to make change and improve their lives."
Arizona AFL-CIO Hosts Senior-to-Senior Phone Bank: The Arizona AFL-CIO and the Arizona Alliance for Retired Americans hosted a phone bank with the state retirees. The volunteers called Arizona seniors to discuss November's elections, union issues and the candidates.
Maine AFL-CIO Strikes with Harvard Dining Hall Staff: The Maine AFL-CIO and UNITE HERE Local 26 joined Harvard University's dining hall staff in their strike for fair wages and health care.
Ohio AFL-CIO Condemns Trump for Hurting Workers: The Ohio AFL-CIO condemned Donald Trump for his long history of business deals that outsource jobs and hurt hardworking Americans. As federation President Tim Burga noted, "Trump claims that he wants to Make America Great for small businesses but has denied his employees fair wages and vocally supported wage-destroying policies. He talks tough on trade, but how can voters be expected to give the benefit of the doubt to someone with such a long history of destroying manufacturing jobs?"