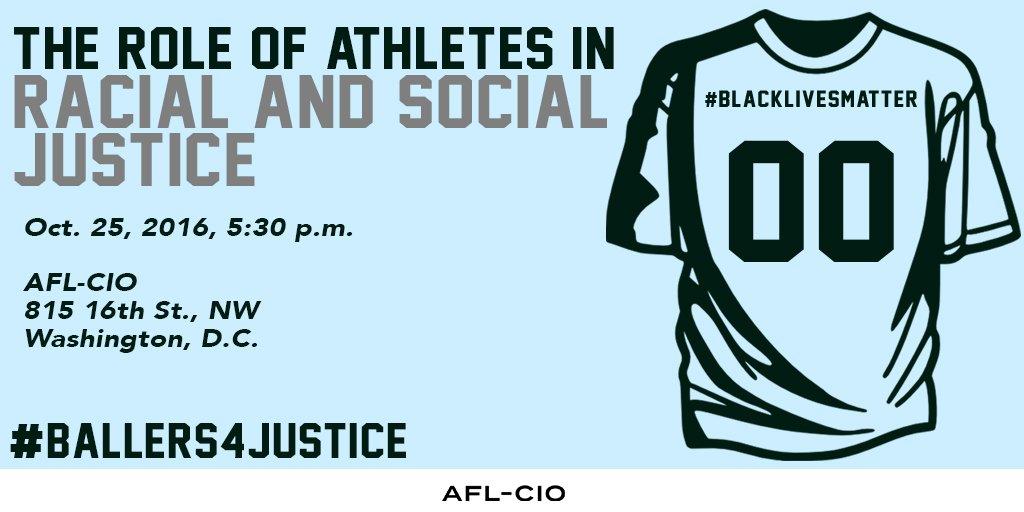 "I heard Jim Brown once say the gladiator can't change Rome. I love Jim Brown. But I disagree. I'll die trying my brother." —Arian Foster, Miami Dolphins
This is a historic moment at the intersection of sports and politics. While the anthem protests of San Francisco 49ers quarterback Colin Kaepernick against police violence are the most visible manifestation of this, we are witnessing an unprecedented number of athletes—from the pros to the NCAAs to high school and even to middle school teams—using their hyper-exalted platform and community standing to try and say something about the issues of racial and social justice. This new generation of "jocks for justice" has been inspired to act by struggles in the streets like the #BlackLivesMatter movement, as well as the ability of athletes to leverage social media in order to go around traditional sports media filters to speak directly to fans. They also are inspired by impatience and the guiding principle that justice delayed is justice denied.
The actions of these athletes are not merely reflections of movements off the field. Their courage is also ricocheting from the arenas to the streets, inspiring more actions and giving a lift to people doing the uncelebrated grassroots work aimed at making the world a more just place for all people, regardless of race, gender or sexuality. Even more critically, the high-profile activism of athletes is serving as a transmission belt, carrying these ideas to communities of fans and into spaces like sports radio where these issues are usually not discussed. They are puncturing bubbles and speaking on issues that, in the sports world, have for years gone unsaid.
I am so thrilled to bring this conversation about sports and social justice to the AFL-CIO headquarters because unions, particularly unions that believe in the idea of social justice unionism, need to reach out to these athletes, sports unions and even fans because that will only make the struggle for the rights of workers stronger. To be on a stage with Ben Watson, Joe Briggs and Carmen Berkley, the AFL-CIO director of civil, human and women's rights, is to be able to have the kind of conversation that can lead to meaningful solidarity and concrete action. Please join us.