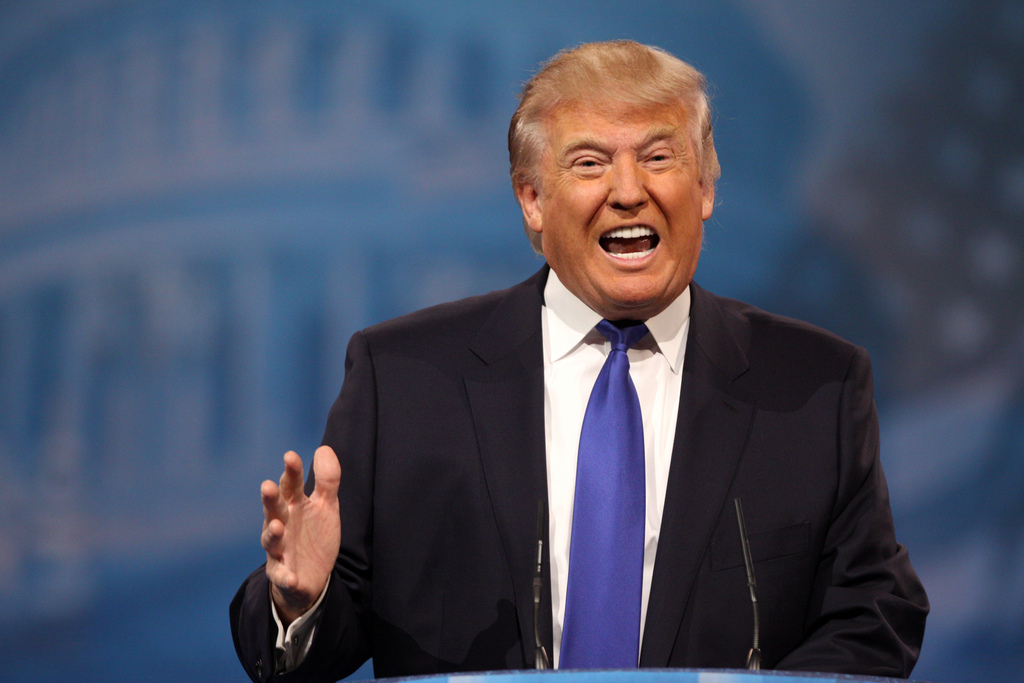 "[Temporary work visas are] something that I frankly use and I shouldn't be allowed to use it. We shouldn't have it. Very, very bad for workers." —Donald Trump
Donald Trump continues to profit from immigrant labor while he scapegoats and vilifies immigrant workers at campaign rallies. His enterprises have a decades-long history of taking advantage of our broken immigration system to bust unions and exploit, endanger and discriminate against working people.
Here are some pages from his anti-worker playbook:
Overuse captive work visa programs: Trump owns companies that have sought since 2000 to import at least 1,100 workers on temporary visas that tie workers to a specific employer and limit their rights. Nine companies majority-owned by Trump have sought to bring in waitresses, cooks, vineyard workers, fashion models, an assistant golf-course superintendent, and other laborers and managers on temporary work-visa programs administered by the Labor Department.
Ignore high unemployment rates and bring in guest workers anyway: Trump's posh Mar-a-Lago Club, a golf resort in Florida, continues to hire temporary workers from abroad to fill jobs as servers, housekeepers and cooks, despite youth unemployment rates exceeding 15%. Since 2008, Trump's resort has hired 70–90 new guest workers each year through the abuse-riddled H-2B visa program that severely limits workers' rights and prevents them from changing jobs. Bringing in captive workers from abroad to fill these $10–$12 per hour service jobs—while local job-placement banks are flush with hundreds of job seekers—seems to have become the standard hiring practice at this Trump resort.
Skirt laws by hiring foreign staff with "the look": The Trump International Hotel and Tower in Chicago hired hundreds of young, white Irish to work in its expensive top floor restaurant using the J-1 exchange visa program. According to others who worked on the property, the jobs at the top of the tower were the most sought after, due to high tips and earning potential. However, locals had trouble landing those jobs because they didn't have "the look." By hiring from abroad under the guise of cultural exchange, the restaurant was able to skirt anti-discrimination laws and select waitstaff that matched a very specific racial profile.
Lure workers to the U.S. with false promises: Trump agencies recruited a Jamaican model to work in the United States under the H-1B visa program, promising her an income of $75,000 per year. But the agency never found her work, and she earned less than $5,000 over a three-year period. The model, who has asserted that she "felt like a slave," is suing Donald Trump for fraud and misrepresentation and is encouraging other models who experienced similar deception to join her suit.
Avoid unions, hire low-road contractors instead: When building his original Trump International Hotel and Tower in New York City, Trump busted the demolition union by hiring a contractor who mistreated immigrant construction workers instead. While clearing the site for this iconic Trump building, not only were the immigrant workers not paid properly, but they also were denied basic safety equipment such as hard hats. Many years later, courts found that Trump had violated these workers' rights and ordered remedies.
Gain investors by promising green cards: The financing for the Trump Tower being built by Trump's son-in-law in Jersey City, New Jersey, is coming in part from Chinese investors who will receive a green card in exchange for investing in his project. Trump industries has secured highly profitable capital through the EB-5 investor visa program, which has been the subject of numerous recent scandals and raised concerns for allowing investment from individuals connected to organized crime. Of all the immigrants Trump has worked with or employed at his facilities, the only ones who will receive a pathway to citizenship are the wealthy investors in his development deals.
Our broken immigration system has helped to pad the pockets of businessmen like Donald Trump for long enough! That is why the AFL-CIO is calling for immigration reforms that will level the playing field, create a road map to citizenship, reform captive work programs, help to raise wages and standards, and ensure that all working people are able to stand up for their rights on the job.