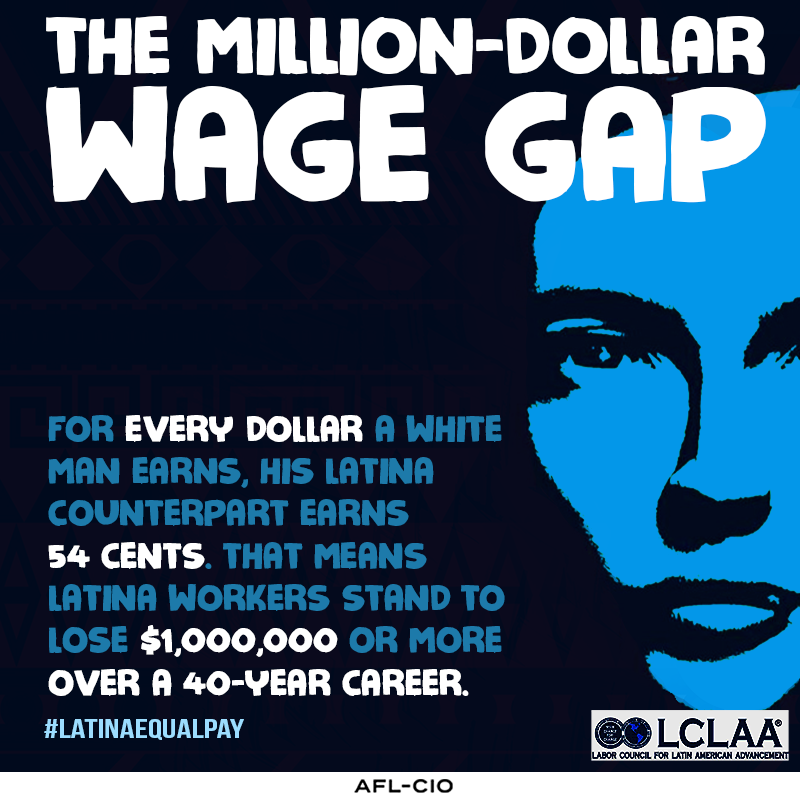 One month ago, scores of organizations and individuals came together to register our outrage about the enormous gender wage gap that Latinas face in the workplace. Nov. 1 marked the 11 additional months that it would take the average Latina worker, or trabajadora, to work to earn what a white, male non-Hispanic worker in the same job was paid in just one year. This is how long it takes when you get paid 54 cents to the dollar paid to white, male workers. Collectively we sounded an alarm marking both our discontent and our commitment to close this gap and win equitable wages for Latinas and all workers.
Our commitment to this issue endures beyond this one day. The Labor Council for Latin American Advancement is devoted to continued efforts to get out the facts, raise our voices, and mobilize Latino labor leaders and workers around the country for action. Change requires persistent action and dedication, singularly focused on achieving equity, yet cognizant that achieving this end requires an investment in a myriad of different social justice campaigns.
A holistic view of why Latinas are at the bottom of the economic ladder requires an understanding of intersectionality and intentional commitment to work across movements. This is necessary to ensure that we are taking into account the whole picture—all of the reasons and all of the ways that Latina workers are experiencing wage theft, wage suppression and wage discrimination, including but not limited to gender, race, immigration status, sexual orientation and identity, marital status, motherhood or the choice not to have children, language, social status, education, language, and a number of other factors that cannot be overlooked or minimized.
LCLAA looks forward to working with all of our partners to advance this strategy, to continuing conversations about this topic, and to looking outside the box and across the aisle for solutions. You can show your support by championing campaigns addressing issues related to the wage gap and the intersection of economic inequality and other important justice movements, including:
1. Equal Pay. Equal Pay Today Campaign, American Civil Liberties Union
Equal Pay Today works in coalition to leverage the expertise, network and resources of its state projects and roundtable organizations to close the gender wage gap across the United States.
The campaign's vision includes: Compliance with existing laws, eliminating the gendered wage gap, transparency in pay without retaliation, fair overtime pay, an end to wage theft and family-forward human resources policies that protect and support all workers.
2. Wage Transparency. Equal Pay Campaign, Restaurant Opportunities Centers United
Pay secrecy often prevents workers from discovering and taking action against wage discrimination. The Wage Transparency Amendment Act would increase pay equity and transparency by prohibiting retaliation against employees for discussing their wages and eliminating wage non-disclosure agreements, or so-called "pay secrecy" policies.
3. Living Wage. #FightFor15, Fight for 15
The fight for a $15 minimum wage has rightly been called the civil rights movement of our time and has grown into an international movement in more than 300 cities on six continents of fast-food workers, home health aides, child care teachers, airport workers, adjunct professors, retail employees and underpaid workers everywhere. (Also see "Tipped Minimum Wage" and "One Fair Wage" campaign from ROC, below!)
4. Tipped Minimum Wage. One Fair Wage Campaign, Restaurant Opportunities Centers
Did you know that tipped workers are paid a separate, lower minimum wage? It's $2.13 an hour at the federal level, a rate that hasn't changed since 1991. That's bad enough, but the tipped minimum wage is especially unjust and harmful for women workers. Because they are dependent on customer tips for the vast bulk of their wages, women workers are often forced to tolerate sexual harassment and even assault at work.
5. Sexual Harassment. Hands Off, Pants On Campaign, UNITE HERE
In order to better understand the experience of women working in Chicagoland hotels and casinos, UNITE HERE Local 1, Chicago's hospitality workers union, pioneered a program to survey nearly 500 women. The study reveals that 58% of hotel workers and 77% of casino workers surveyed have been sexually harassed by a guest. Sexual harassment and assault are gendered oppression and clear workplace safety threats.