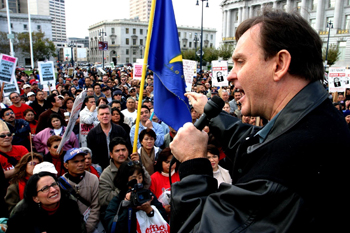 Art Pulaski, executive secretary-treasurer for the California Labor Federation, wrote a recent op-ed for The Sacramento Bee explaining why the Trans-Pacific Partnership is bad for America's workers:
The notion that a flawed trade deal such as the Trans-Pacific Partnership would create jobs or chip away at widening income inequality is pure fantasy. West Sacramento Mayor Christopher Cabaldon perpetuated it, leaving out pertinent facts about the deal's impact ("Pacific trade pact means more jobs, higher wages for north state," Viewpoints, Feb. 8).
Like every other recent trade pact, the TPP is chock-full of goodies for corporate special interests while woefully inadequate on labor and environmental safeguards. The chief problem that plagued deals such as the North American Free Trade Agreement is that labor standards were weak or unenforceable, encouraging corporate CEOs to move their operations to countries that pay meager wages in comparison to U.S. wages. [The North American Free Trade Agreement] led to 700,000 jobs shipped overseas.
The TPP is no different. In fact, the Peterson Institute report that Cabaldon cites finds that the trade deal wouldn't be a job creator for America, but would lead to 121,000 fewer manufacturing jobs by 2030 and more service jobs. That's a major red flag for anyone concerned about the future of our middle class.
Read the full op-ed.