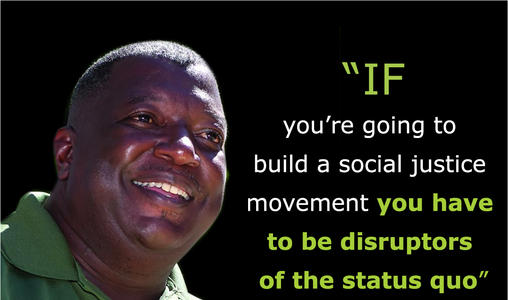 Every week, we'll be bringing you a roundup of the important news and commentary about issues and events important to working families. Here's this week's Working People Weekly List.
Working People Step Up to Help Flint, Detroit—and Lansing Can Join Them: "As president of the Michigan AFL-CIO, I see arguments for why our state needs organized labor every day. I see them in the statistics that show stagnating wages and a dwindling middle class. And I see them in our young people, who worry they'll never have a job that allows them to retire with dignity."
Carrier in Indy, UTEC in Huntington to Move Units to Mexico, Costing 2,100 Jobs: "Two Indiana plants that make products for the heating, ventilating and air conditioning industry are shifting their manufacturing operations to Mexico, which will cost about 2,100 workers their jobs, company officials announced Wednesday. Carrier is shuttering its manufacturing facility on Indianapolis' west side and moving its operation to Mexico, eliminating about 1,400 jobs during the next three years."
TPP Would Further Emasculate America: "The TPP contains weak plans to help countries like Vietnam and Malaysia improve conditions so that American workers aren't placed in competition with forced and child labor there. But the proposed trade deal contains no strategy at all under which Mexico would meet its supposed commitments to improve labor conditions."
U.S. Unions Condemn Deportations of Central American Families: "Richard L. Trumka, president of the American Federation of Labor and Congress of Industrial Organizations (AFL-CIO) noted that unions had, from the beginning, urged that these families be given refugee status and be allowed to remain in the country. 'Instead, the shameful response of our government has been to erode due process protections by expediting legal proceedings and to lock families in remote detention facilities with little access to counsel,' he said in a statement."
Union Membership Creeps Upward in the South: "Union leaders feel the urgency to continue labor's momentum in the South, however modest, but they also recognize that defending recent gains—much less growing in the often union-hostile climate in Southern states—will require a long-term commitment to Southern organizing. As Tefere Gebre, the AFL-CIO executive vice-president who has been at the forefront of labor's efforts to expand in the region, recently told Facing South, 'If anybody's not committing until 2022, coming in from outside of the South, they're just looking for a photo op.'"
AFL-CIO Raise the Wage: Workers Need to Re-Write the Economic Agenda: "The AFL-CIO's Eric Hauser on the labor federation's Raise the Wage campaign. A Raising Wages summit was held in South Carolina over the weekend. Hauser says workers everywhere in America are realizing that wages are too low and that action has to happen on a range of issues to support raising wages. A national Raise the Wage agenda. And not just for union workers."
Trade Deals Like TPP Encourage 'Business Decisions' Like This Heartbreaking One from Indianapolis: "In this video, workers at the Carrier plant in Indianapolis react to the company announcing that it will ship 1,400 local jobs to Mexico in what they described as 'strictly a business decision.' You can hear the heartbreak and outrage in the voices of the workers who must now scramble to figure out how to take care of their families. Carrier makes heating, air conditioning, ventilation and other systems. The layoffs are scheduled to begin in 2017."
TPP Is Terrible for U.S. Workers: "Art Pulaski, executive secretary-treasurer for the California Labor Federation, wrote a recent op-ed for The Sacramento Bee explaining why the Trans-Pacific Partnership is bad for America's workers."
Must See: Michael Moore's New Film: "With the 2016 election season underway, the timing could not be better to go see an exciting new film from progressive champion Michael Moore. It's called 'Where to Invade Next,' and it takes on some of the most pressing issues facing America today. Moore, in his usual funny, creative and thought-provoking way, makes a strong case for the AFL-CIO's Raising Wages agenda as a way to restore the American Dream."
Is the TPP a Threat to Human Rights?: "Just days before the Trans-Pacific Partnership trade and investment deal was signed, a human rights experts warned against it."
Black History Month Profiles: Celebrating a Pioneering Labor Leader in California, Doug Moore: "In honor of Black History Month, we wanted to spotlight one of California's most forward-thinking labor leaders, Doug Moore. Moore is the executive director of United Domestic Workers of America, AFSCME Local 3930, which is made up of more than 91,000 California home care workers. His union has made historical gains under his leadership, expanding membership by the thousands in recent years. When talking to Moore, I was struck by his enthusiasm and seemingly tireless resolve to grow our labor movement. You can tell he cares deeply about his members, the broader workers' rights movement and racial justice in our country. Let's dive in."
Love with a Union Label on Valentine's Day: "Why not give your valentine some union-made sweets this Feb. 14, toast your love with champagne that carries a union label or touch up your pheromones a bit with some smell-good union-made scents."
Dems Must Run Toward People of Color, Not Away From Them: "It might surprise you to hear we have a progressive majority right now, but we need to stop wasting dollars chasing and trying to change the minds of conservative white swing voters. The progressive policy agenda will benefit all working people, as is the case with Obamacare, but we can't waste time or money chasing a shrinking sector of the electorate when growing communities of color are eager to engage and work with us to reshape America's policies and priorities."
Londrigan: Judge's Ruling Against County RTW Ordinance a Victory for Kentucky's Working Families: "Federal District Judge David Hale's decision striking down Hardin County's 'right to work' ordinance was a victory for Kentucky's working families, said Bill Londrigan, president of the Kentucky State AFL-CIO."
Why Shouldn't Education Be Free?: "Students hang banner below the historic clock tower of the Cooper Union Foundation building in New York City during a 2012 December occupation in protest of the possibility of implementing tuition in the historically free school. Why shouldn't higher education be free for everyone? Higher education is not a commodity. It is a social good. It's increasingly necessary to get a good, middle-class job. A more highly educated workforce can be more adaptable and make the country more competitive. So why shouldn't it be free for everyone?"
How TPP Could Make Our Economy Worse: "The Trans-Pacific Partnership is a so-called 'trade deal' that could cost 448,000 U.S. jobs, suppress U.S. wages and irreparably weaken our democracy and sovereignty."