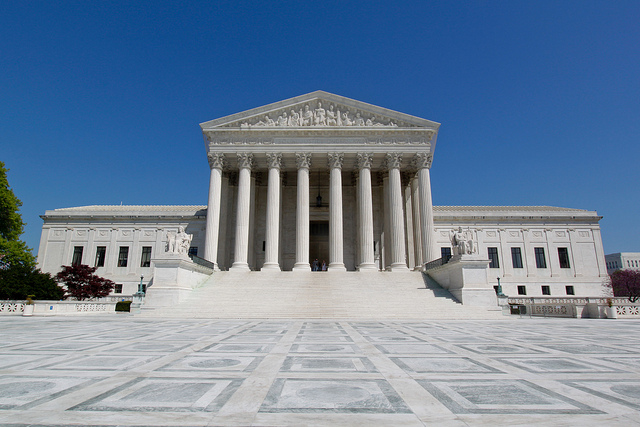 The recent vacancy on the U.S. Supreme Court created by the passing of Justice Antonin Scalia has continued the trend of Senate Republicans refusing to do their jobs when it comes to judicial nominations.
Let's be clear: Supreme Court nominees are, in fact, confirmed in election years—even when the Senate is not controlled by the president's party. Justice Anthony Kennedy, a Ronald Reagan appointee, was confirmed by a Democratic-controlled Congress in February 1988, 65 days after his nomination in November 1987. And Sens. Chuck Grassley (R-Iowa) and Mitch McConnell (R-Ky.) voted to confirm now-Justice Kennedy in that election year.
Senate Republicans have been playing with their constitutional obligations to confirm President Barack Obama's judicial nominees for district and circuit courts as well. Vacancy rates on the federal bench are escalating, and qualified nominees are waiting for long periods of time to be confirmed, the most recent example being Judge Luis Felipe Restrepo for the U.S. Court of Appeals for the 3rd Circuit, who waited more than 400 days.
With the Supreme Court vacancy, Senate Republicans and Republican presidential candidates have escalated their obstructionism. Within hours of the announcement of Justice Scalia's death, Republican Senators and Republican presidential candidates posited—falsely-- that for 80 years it has been "standard practice" not to confirm Supreme Court nominees in an election year:
Republican Senate Majority Leader Mitch McConnell announced that the vacancy should be left unfilled until after the next president is elected.
Republican Senate Judiciary Chairman Chuck Grassley opined that it is "standard practice" not to consider a court nominee in an election year.
Republican Sen. and presidential candidate Ted Cruz asserted in the most recent Republican presidential debate that a court vacancy had never been filled during an election year.
Republican presidential candidate Donald Trump stated in that same Republican presidential debate, in response to a question about filling the Supreme Court vacancy: "Delay, delay, delay."
As AFL-CIO President Richard Trumka stated, "The stated intent of Senate Republican leaders to refuse consideration of a Supreme Court nominee is an appalling breach of their constitutional responsibilities. The Supreme Court is not a game and the Constitution is not a toy....The American people do not want [Republican leaders] to politicize such a vital responsibility. They want them to carry out their constitutional duty to their country."
Federal courts play a pivotal role in preserving important protections under U.S. labor and employment laws, and those decisions have an immediate and lasting impact on the lives of working families. The U.S. Supreme Court, which hears about 80 cases a year, has in recent years considered important cases involving worker pay, pregnancy discrimination and other workplace issues.