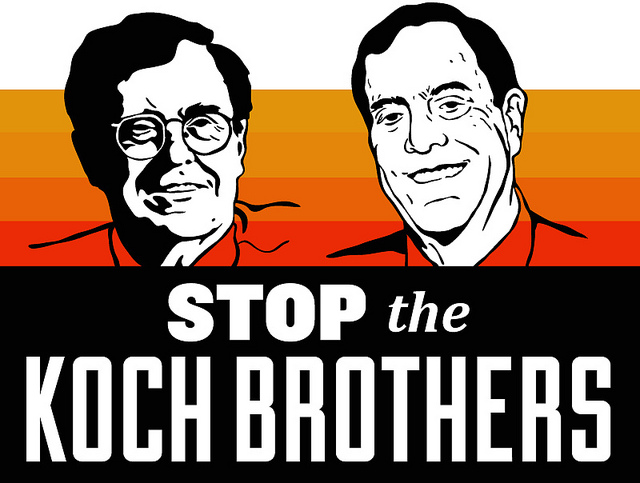 The story is very familiar. It comes right out of the extreme, pro-corporate playbook. In this case, literally.
Propped up by out-of-state interests, extremists in West Virginia are pushing "right to work" legislation that benefits only a tiny percentage of West Virginians and outsiders and takes away rights from hardworking people trying to support their families. The examples of out-of-state interests pushing this anti-working people legislation are numerous:
Last week, the unofficial leaders of the anti-worker movement in the United States, the Koch brothers, held an exclusive donor meeting at a luxurious locale in Palm Springs, California. Bill Cole, the president of the West Virginia Senate and major proponent of the right to work bill, was one of seven elected officials from the entire country to participate in the event.
The legislation mirrors model bills promoted by the American Legislative Exchange Council, and the organization is closely tracking the West Virginia outcome. ALEC receives a significant portion of its funding from entities controlled or funded by the Koch brothers.
Americans for Prosperity, another Koch-related organization, has spent significant funds on direct mail and TV ads in West Virginia, pushing right to work, much like it did in Michigan in 2012 and Wisconsin in 2015.
AFP's Pete Lund, formerly the sponsor of similar legislation in Michigan, has been promoting the legislation in West Virginia and advising legislators on the bill.
The Koch-funded State Policy Network as a chapter in the state, the Public Policy Foundation of West Virginia, that serves in a support role for the right to work push, much like similar SPN-related groups did in Michigan and Wisconsin.
Koch-related groups also are backing a proposed repeal of the state's prevailing wage.
Union-busting policies like those pursued by the Koch brothers are unpopular in the state. Public Policy Polling conducted surveys in several state House districts and found that:
In House District 1, 51% of voters said they would be less likely to vote for supporters of anti-worker legislation. More than 60% of voters also said that the state would be worse off if fewer workers belong to a union.
In House District 32, 49% of voters would be less likely to vote for supporters of anti-worker legislation, and 64% said the state would be worse off with fewer union workers.
In House District 54, those two numbers were 54% and 64%, respectively.
In West Virginia and want to fight back? Call 866­-829­-3298 to oppose right to work.