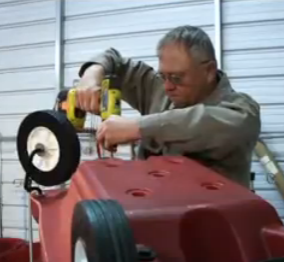 If you visit Children's Healthcare of Atlanta, you'll see the familiar red wagons that help make life a little easier for young patients who take comfort from the wagons in the unfamiliar environment of the hospital. More than a year ago, retired Machinists (IAM) member Roger Leggett started making the wagons even more useful, when he invented "Chad's Bracket," which allows the wagons to be used by children who need an IV pole with them.
The inspiration for the bracket's came from Leggett's granddaughter, who was fighting cancer at the time (and is now in remission), and the brackets were named after his son, Chad, an ambulance driver for Children's Healthcare who died of heat stroke. Since Leggett began creating the brackets, they've caught on elsewhere and children from Miami to Los Angeles are finding a little more joy in their lives.
"Every one of them are nonprofit, we don't make a penny off of them. We've got one going to Scotland next month," Leggett said. "I had a nurse tell me they brought a child back from surgery, and she wouldn't let them remove her from the wagon. She slept in the wagon that night."
Leggett plans to continue making Chad's Brackets to honor his son and granddaughter.