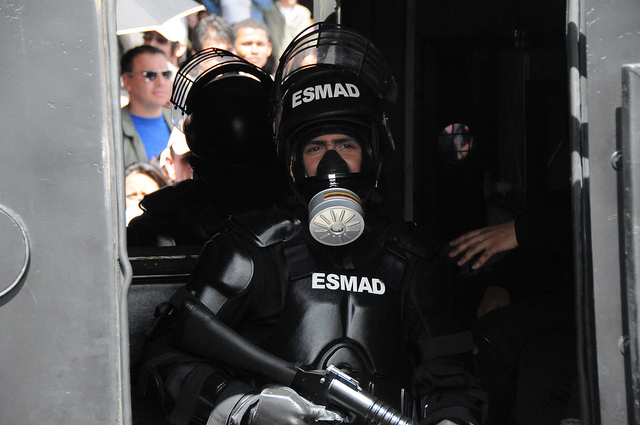 The country's armed conflict has been used by the Colombian government for decades to systematically deny basic labor and human rights. This crisis disproportionately impacts the Afro-Colombian population. A recent trade union delegation to the nation documented how Afro-Colombians have been excluded from economic growth. Despite acknowledging the persistence of racial discrimination and the historic causes of the marginalization, poverty and vulnerability experienced by Afro-Colombians, the government has not taken effective action to address these systemic problems.
Afro-Colombians are about one-quarter of the entire population, yet nearly 80% of Afro-Colombians live in poverty, more than 30% have no water and sanitation services, and their infant mortality rate is more than three times the national average. Limited access to land is a key factor in this disparity. Such displacement has accelerated since passage of the U.S.-Colombia trade agreement, which increased agro-industrial and mining projects on the Pacific coast.
As the U.S. government continues to support and critically engage with Colombia, U.S. policy and resources must be leveraged to broaden the post-conflict society to include workers and communities that so often are excluded. In a post-conflict society, the Colombian army and police—especially the riot police (ESMAD)—must not be sent to resolve land, labor and other social conflicts without first exhausting other options. The ESMAD frequently has been used to repress peaceful protest by students, trade unionists, Afro-Colombian and indigenous peoples, farmers, displaced persons, journalists and ordinary citizens not involved in demonstrations. ESMAD has intervened in labor disputes on a regular basis, leaving many workers with permanent disabilities. Members of ESMAD have been criminally charged with at least 20 extrajudicial executions, 780 arbitrary arrests, 3,000 injuries and 80 cases of torture. Such practices have no place in a democratic society.
President Obama will have an important opportunity to raise these concerns during Colombian President Juan Manuel Santos' visit to Washington this week. In unison with our partners in Colombia, the AFL-CIO supports the peace negotiations and again stresses that worker and human rights issues must be addressed to build a lasting and sustainable peace inclusive of the interests of all workers, Afro-Colombians and indigenous communities. Any sustainable solution to the crisis in Colombia must include respect for workers' rights, access to decent work and a commitment to shared prosperity.
Real change requires a change in practices: the U.S. and Colombian governments must stop looking the other way when employers violate the law. We have communicated to the Obama administration our support for high-level engagement, but also that cooperation between Colombia and the United States must address concerns that largely have been neglected over the 15 years of Plan Colombia.