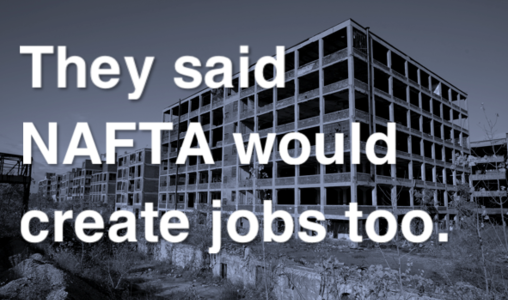 Every week, we'll be bringing you a roundup of the important news and commentary about issues and events important to working families. Here's this week's Working People Weekly List.
AFL-CIO Protests Federal Deportations: "'We're here to declare again, over and over again, that the AFL-CIO...and its affiliated unions are standing up in solidarity with the immigrant community saying, enough is enough,' AFL-CIO Vice President Tefere Gebre said. He said U.S. policy has made it impossible for Central Americans to live in their own land. 'We ask our government, instead of arming the police in Central American countries and supporting coup d'états...we should have an economy plan for those countries that lifts up workers, that provides safe workplaces, that provides education, that provides growth of wealth in those countries so people don't leave,' he said."
Trumka Warns Lawmakers Not to Vote for TPP: "AFL-CIO President Richard Trumka today vowed to kill the Trans-Pacific Partnership if it is put to a vote and warned lawmakers running for election not to support the pact. 'To all those on the ballot in 2016, we have a simple message: You're either with us or against us,' Trumka said at a press conference with other groups and Democratic members of Congress opposed to the agreement, which is being signed later today in New Zealand. 'If TPP comes up for a vote, we're going to kill it once and for all,' Trumka said. 'We're going to be vigilant, watchful and cover all the angles.'"
TPP: A New Low: "From the outset, the AFL-CIO provided detailed and substantive suggestions for improving this agreement and evidence to support our positions. On everything from labor enforcement to investment rules, we offered a path forward. Unfortunately, our policy recommendations were ignored, as were those from the environmental, consumer, public health, global development and manufacturing sectors. That's what you get from secret negotiations driven by corporate and investor interests."
300 Plumbers Poured into Flint, Michigan, to Install Water Filters for Free: "Everyone wants to see the city of Flint swim rather than sink—including plumbers. More than 300 union plumbers from all over Michigan flooded Flint to install free filters for residents, this past weekend. According to ABC12, not all the faucets in Flint can fit a filter, which each resident of the city desperately needs in order to get rid of lead in their drinking water. Some of the faucets are older and oddly shaped, making the installation of a filter nearly impossible."
How Wealth Plays into Politics at a Personal Level: "But in the United States—where a competitive political campaign requires huge sums of money, and wealth or access to it is increasingly a prerequisite for entry—the debate has become supercharged. Voters in both parties find themselves wondering whether anyone is looking out for the little guy, even as a candidate like Donald J. Trump suggests that it is precisely his wealth that liberates him from the influence of special interests."
No Working Woman Should Have to Wait Decades to Receive Equal Pay: "The labor movement is all about fighting for fair practices and a strong voice for working people on the job. Through collective bargaining, union members, both men and women, are able to negotiate wages that are fair and that pay enough to sustain a family. But every woman should be guaranteed equal pay, whether or not they are a union member. That is why the labor movement supports legislation like the Paycheck Fairness Act and the Workplace Action for a Growing Economy Act on the federal level and is proud to partner with grassroots organizing campaigns in the states that are working to pass equal pay legislation on the local level."
Rep. John Lewis Encourages Community, Labor and Youth Leaders to Fight for Equity and Justice: "Tefere Gebre, executive vice president of the American Federation Labor and Congress of Industrial Organization (AFL-CIO), supports Rep. Lewis' push toward the younger generation and also urged them to continue the momentum fighting against inequity. 'We have to have a purpose as to where we go. It's not about individual police shootings,' said Gebre. 'What's happening is that we are not allowed as people of color to participate and share in America's prosperity. Until that happens, our struggle will continue.'"
Raises, Not Roses: "Women still deserve to earn equal pay. Their work is worth every dollar a man makes, but their earnings do not reflect that. Women make 79 cents for every dollar a white, non-Hispanic man makes, and the shortfall is even worse for women of color: Black women make 60 cents, and Latinas make 55 cents for every dollar a white, non-Hispanic male makes."
The Economy Adds 151,000 Jobs in January, and Unemployment Remains Essentially Unchanged at 4.9%: "The U.S. economy added 151,000 jobs in January and unemployment was 4.9%, slightly less than December's 5%, according to figures released this morning by the U.S. Bureau of Labor Statistics. This continues the record string of months with job growth."
Colombia Must Protect All Workers: "The government of Colombia continues to allow employers to undermine workers' rights and fails to effectively inspect and prosecute alleged violations of labor laws. Violence against trade unionists often occurs without any effective government response."
Five Reasons that Rosy Predictions About the TPP Are Wrong: "One of the billionaires crusading to cut working people's Social Security now has his sights set on making the Trans-Pacific Partnership look like a sweet deal. Hint: It's not. Pete Peterson's think tank, Peterson Institute for International Economics, just released a study in January 2016 predicting great economic growth from the TPP. But the PIIE methods are so detached from reality that the conclusions are wrong. Here are the reasons why."
Union-Made Super Bowl Party Shopping List: "On Super Bowl Sunday next week, some of our larger and faster union brothers—members of the NFL Players Association (NFLPA)—will be battling it out in Santa Clara, California, at Super Bowl 50. While the Super Bowl carries a union label, from players to broadcast crews to stadium workers—your Super Bowl party spread can, too, with union-made in America food and drinks."
West Virginia, the Latest Battlefront in the Conservative Assault on Working People: "The story is very familiar. It comes right out of the extreme, pro-corporate playbook. In this case, literally."