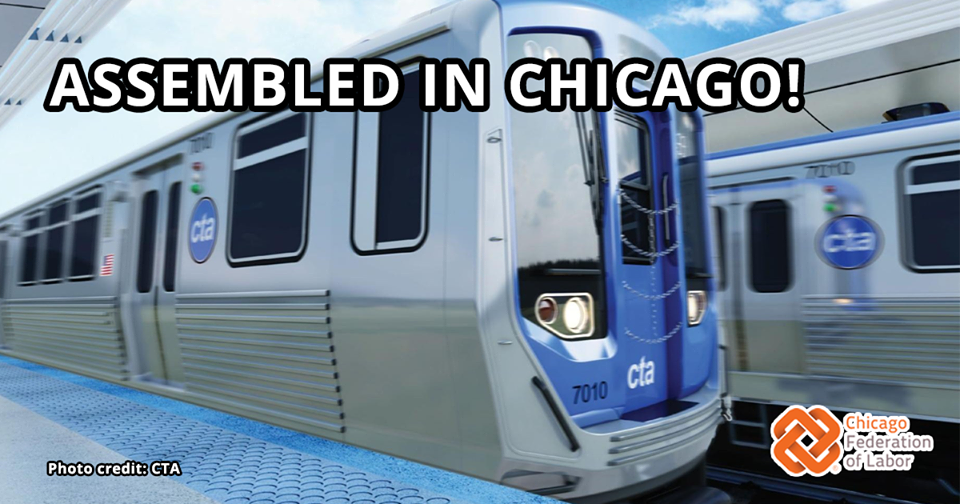 The Chicago Transit Board awarded a contract this week to CSR Sifang America JV to build the newest generation of Chicago Transit Authority rail cars as part of the city's modernization program. CSR has pledged to build a new rail car assembly facility in Chicago, the first new assembly of its kind in 35 years. The investment of $40 million is expected to generate 170 jobs, while also reducing maintenance costs and reducing power use through the use of more efficient technology.
The Chicago Federation of Labor has worked with the city to make sure that the modernization program created new U.S. manufacturing jobs. Once the new trains are put into service, the Chicago rail fleet will reduce the average age of cars from 26 (in 2011) to 11. The more than 800 new cars will go into service by 2020.
Jorge Ramirez, president of CFL, explained the importance of the announcement:
It has been over 30 years since the last rail car rolled off the Pullman assembly line on Chicago's Southside. Today's announcement is the culmination of nearly two years of collaboration with Mayor [Rahm] Emanuel to bring rail car manufacturing back to Chicago where it belongs. We commend the CTA for including the U.S. Employment Plan in this bid process, leading the way to high road manufacturing jobs, and thank Mayor Emanuel for his ongoing commitment to build a world-class transit system.
"Providing modern trains and buses is a critical part of having a world-class transit system," said CTA President Dorval R. Carter Jr. "This rail car purchase—the largest in CTA history—will give CTA one of the newest fleets in the United States and provide our customers with state-of-the-art trains providing comfortable, reliable rides."
CFL worked with Jobs to Move America in moving the deal forward. Linda Nguyen Perez, the national policy director for Jobs to Move America, said:
Chicago is a shining model for the rest of the nation, providing a blueprint for leveraging the billions of public transit dollars spent each year to bring back manufacturing, encourage investments in workforce training and jobs for U.S. workers. We look forward to partnering with CSR to deliver a high road program that prioritizes the creation of career paths for Chicago's low income and communities of color.