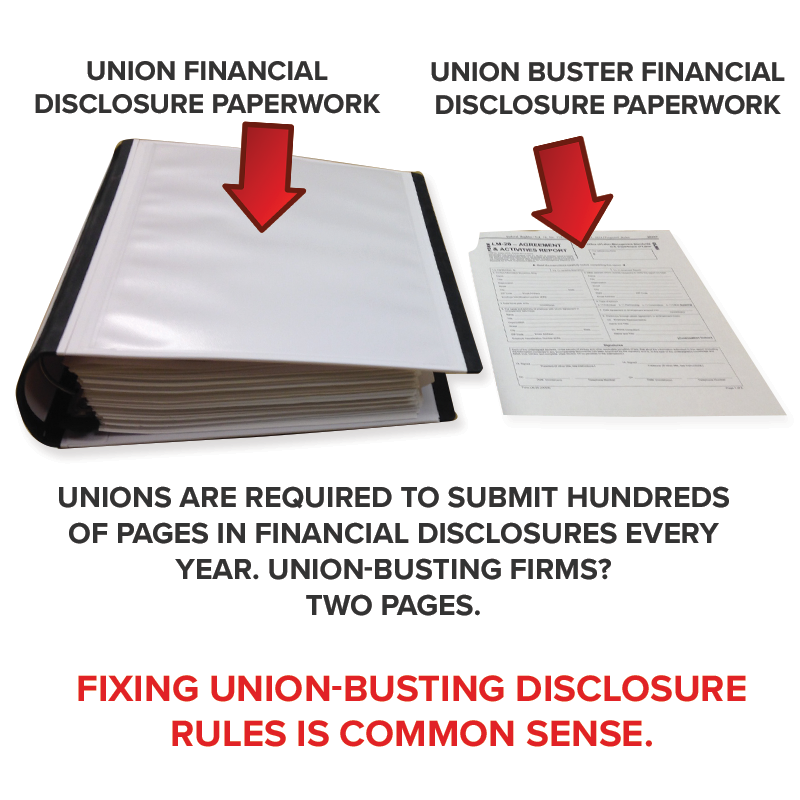 You've probably watched one before.
An anti-union video so painfully corny, you probably had to turn it off after a few seconds.
Anti-union videos—like this one from Target—fliers and other materials are the bread and butter of consulting firms who specialize in "union avoidance." A nefarious industry that steps in for employers and attempts to squelch working people's right to a union voice on the job.
Thanks to a new transparency rule released by the Department of Labor called the "persuader rule," these firms are no longer allowed anonymity. Employees deserve to know whether these third-party union busters are being employed to influence their decision about forming a union with their co-workers.
Making these union busters more transparent is only fair. While unions are required to file lengthy annual LM-2 financial disclosure reports that detail all receipts and expenditures, the LM-20 form that management consultants will be required to file is two pages, much of which simply requires checking boxes.
Mike Lo Vuolo, a former American Airlines passenger agent, and his co-workers tried three times to form a union at American Airlines with the Communications Workers of America (CWA), under the company's previous management. In 2012, despite having filed for bankruptcy, American Airlines spent hundreds of thousands of dollars on the law firm Sheppard Mullin. Mike recalls high-gloss fliers, video cassettes and DVDs used to discourage and scare employees during organizing drives.
AFL-CIO President Richard Trumka weighed in on the new rule:
It takes great courage for working people to come together to form a union. Working men and women deserve to know who their employer is hiring and exactly how much they are spending to discourage workers from forming a union.