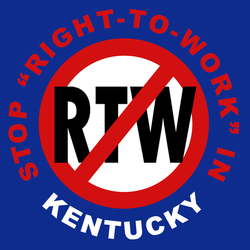 Think voting really doesn't matter? Talk to a pair of Kentucky labor leaders, and they'll tell you otherwise.
Union-endorsed candidates won three of four special House elections this month, "right to work" is dead for now in the General Assembly, according to Kentucky State AFL-CIO President Bill Londrigan and Bill Finn, Kentucky State Building and Construction Trades Council director.
State Senate President Robert Stivers (R) announced Friday that the Kentucky right to work act "is off the table this session. The sole reason was the Democrats holding on to a majority in the state House, which the Democrats now control 53–47."
Stivers also pulled Senate Bill 6, so-called tort reform legislation: "It is rare for the proponents of such bills to kill their own bills, and it is even rarer for the president of the Senate to credit their deaths to the one factor that we all know has been holding back the onslaught of anti-worker legislation: Democrat-control of the Kentucky House," Londrigan said.
Unions were a big reason Democrats still have the legislature's lower chamber, according to House Speaker Greg Stumbo (D). "I don't think you can overstate just how important organized labor was in the special elections," he said. "They gave us a strong foundation to work from, and they were crucial for our ground game."
Right to work was very much alive last fall. Tea party Republican Matt Bevin (R) was elected governor on a right to work platform, leaving the Democratic-majority House of Representatives as the only barrier between the Bluegrass State and right to work. The state Senate has a 27–11 pro-right to work Republican majority.
The Democrats' 54–46 House margin shrunk by four when a pair of Democratic lawmakers switched to the Republican Party and two more took posts elsewhere in state government.
The GOP hoped to run the table in the four special elections, thereby making the House 50–50. (Two Republicans had to leave after winning constitutional offices in November.)
A GOP sweep—or even wins in three of the races—would have given the Republicans significant momentum going into this fall's elections. Now momentum seems to be with the Democrats.
Stivers filed Senate Bill 3 on Jan. 6. "S.B. 3 was sent to the Senate Economic Development, Tourism and Labor Committee on Jan. 7, where it lay pending the outcome of the House special elections on March 8," Finn explained. "There could not be a clearer picture for our members…that their vote matters than President Stivers' admission that a Republican majority in the House would have passed S.B. 3."
Click here to see Stivers' surrender on Senate Bill 3.
"President Stivers stated clearly that 'elections have consequences' and the consequences of the failure of the Republicans to win all four special elections and tie for control of the Kentucky House is the death of right to work and tort reform—as well as the previous death of prevailing wage repeal in the House Labor and Industry Committee—and so many other terrible pieces of legislation the Republicans had ready if they won those four critical seats," Londrigan said.
Londrigan added that the special elections again prove that all elections matter. "In this case, the consequences were sufficiently positive to maintain control of the Kentucky House." But he cautioned against "resting on our laurels. We are heading right back into a full blown effort by our opponents to 'flip the house'—a mantra the Republicans have been using for about the past six years. We have prevented them from doing so this time, and only by an enormous and united effort will we be able to do so this November. The consequences of failure can be understood by simply looking at our neighboring states of Indiana and West Virginia." Both states became right to work states, West Virginia most recently.
"The wolf is at the door again," Londrigan warned. "The question is will we in the Kentucky trade union movement have the strength and courage to keep the wolf at bay and prevent Bevin and company from turning back the clock even further on Kentucky's hardworking men and women."
Londrigan thanked "all of those who worked so diligently and effectively in the four special elections. Our opponents thought they had all four of them won. Our labor program and grassroots and workplace efforts won these elections and the hard work and dedication of so many union members, representatives, released staff and national staff gave the Kentucky labor movement a great win and a chance to win again in November."
Finn is also grateful to union members—especially those who pack building trades cards—for their work in the special elections. "This is more proof that organized labor's effort can change the directions of Kentucky."
Kentucky is the South's only non-right to work state. The Kentucky House is the only chamber in a southern legislature with a Democratic majority.