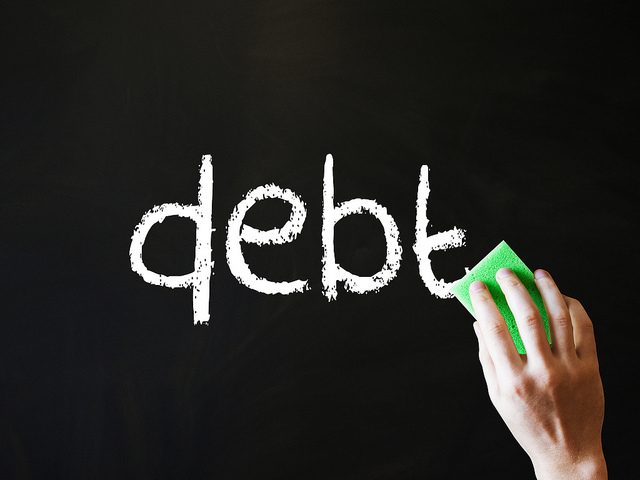 Starting yesterday, more than 387,000 people began finding out they qualify for complete forgiveness of their existing federal student loan debt.
Since 2012, people certified by the Social Security Administration as "totally and permanently disabled"were able to use that finding to qualify for discharge of their federal student loans. Even though these 387,000 people qualified for discharge of their student loans, they continue to struggle with their federal student loans—often because they just don't know they could have their debt discharged.
Natalia Abrams, executive director of Student Debt Crisis, said that her organization:
...is both encouraged by these steps and empowered to demand more comprehensive reform. It is our hope that the Department of Education will continue to work with agencies such as the Social Security Administration and the Internal Revenue Service to notify student loan borrowers about all available government loan programs, which will prevent further defaults.
As part of the implementation of President Barack Obama's Student Aid Bill of Rights, the department compared Social Security Administration data to student loan records to proactively identify qualifying borrowers.
The Department of Education will be reaching out to each individual borrower who qualifies, letting them know that their federal student loans may be forgiven, and including an application for the discharge. Letters will begin going out next week and will continue to be sent over the next 16 weeks.
Letters will include the U.S. Department of Education seal in the top right corner and the recipient's name and Federal Student Aid account number. The letter will look like this: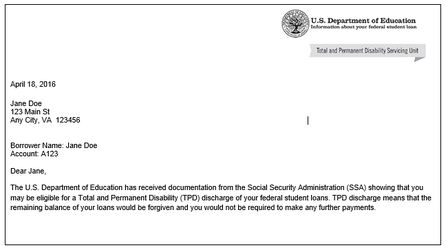 About 179,000 qualified people are currently in default, with more than 100,000 already in the Treasury Offset Program—meaning some of their disability benefits, tax refunds and other federal benefits may be seized every month for payment on their defaulted student loans.
Nancy Altman, founding co-director of Social Security Works, said that:
In 2013 alone, the federal government seized $150 million in Social Security benefits for outstanding student loans from retirees, widows, veterans and many others on limited income. This cruel practice must stop. Perhaps, having taken this significant step, the federal government will protect all Social Security benefits from garnishment for student and other outstanding debt, as was always intended and as was the case up until 1996.
Unfortunately, student debt that is discharged or forgiven by the government can be included in an individual's taxable income for federal tax filing purposes, so the administration can't simply automatically discharge the debt. (This may not apply in certain circumstances, including insolvency. Individuals should consult a qualified tax accountant or lawyer for advice.)
The Obama administration has called for exclusion of forgiven student debt from taxable income, but Congress has yet to act. Liz Shuler, AFL-CIO secretary-treasurer, lauded the president's attempt:
The AFL-CIO applauds the administration's efforts to simplify the discharge process for people who qualify for Social Security and encourages the department to take additional steps to improve outreach and communication to student loan borrowers more generally. Now Congress must act to ensure people who qualify for student loan forgiveness or discharge aren't hit with an additional tax burden.
You can learn more about total and permanent disability discharge of federal student loans.
If you think you or a loved one may have been contacted by a debt relief scam company trying to take advantage of this program, you can file a complaint with the Consumer Financial Protection Bureau here.