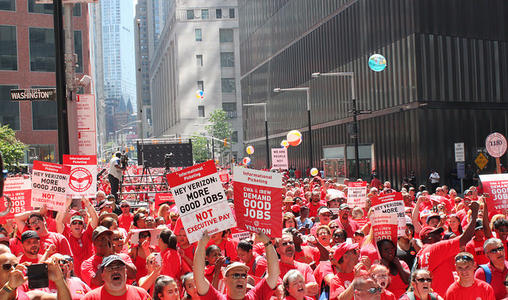 Every week, we'll be bringing you a roundup of the important news and commentary about issues and events important to working families. Here's this week's Working People Weekly List.
Trump Holds Tongue on Verizon Strike: "'Trump's rhetoric has tapped into the very real and very justified anger of everyday people,' AFL-CIO President Richard Trumka will tell the Electrical Workers (IBEW) Friday, according to prepared remarks. 'But here are the facts: Trump loves right to work. He routinely mistreats workers at his own companies. He cheered Wisconsin Gov. Scott Walker's attacks on teachers and nurses.'"
Labor Movement Pledges to Challenge Bigotry, Bridge Racial Divisions: "Speaking at the annual conference of the United Association for Labor Education, AFL-CIO President Richard Trumka condemned anti-immigrant statements by presidential candidates Ted Cruz and Donald Trump and expressed support for Black Lives Matter and other groups challenging the status quo. He was joined by members of the federation's Labor Commission on Racial and Economic Justice, who cited ways that unions are taking on racism within their own organizations and in the broader society."
NLRB Rules UAW Can Organize Group of VW Workers: "The National Labor Relations Board said a group of about 160 maintenance workers at Volkswagen's plant in Chattanooga, Tenn., has the right to form a union, delivering a key victory to the UAW's multi-year effort to organize the plant."
Verizon Workers Strike on East Coast After Deadline Passes: "Tens of thousands of Verizon workers on the East Coast walked off the job on Wednesday after the company and two labor unions failed to reach a new agreement by a 6 a.m. deadline set by the unions, more than eight months after their contracts expired. The Verizon strike, involving about 36,000 workers, is one of the largest in recent years."
New Steps to Help People with Disabilities and Student Loans: "The AFL-CIO said the [Education] department took a 'simple yet powerful' step to educate people about their rights. 'This will come as a huge relief for people who are already struggling with the economic and financial challenges of a severe disability or injury,' said Liz Shuler, secretary-treasurer of the AFL-CIO."
Paying Women Equally Would Be a Boon for 'Everyone Else,' Too: "A new report from the McKinsey Global Institute finds that greater gender parity in the workforce—in terms of pay, hours worked and access to full-time jobs—would also benefit the entire country's economy. The report makes the case for both the government and businesses to take a more proactive role in bringing about gender equality."
The Rich Live Longer Everywhere. For the Poor, Geography Matters: "For poor Americans, the place they call home can be a matter of life or death. The poor in some cities — big ones like New York and Los Angeles, and also quite a few smaller ones like Birmingham, Ala.—live nearly as long as their middle-class neighbors or have seen rising life expectancy in the 21st century. But in some other parts of the country, adults with the lowest incomes die, on average, as young as people in much poorer nations like Rwanda, and their life spans are getting shorter."
Working People in Unions Stand with LGBTQ Brothers and Sisters Against Discrimination: "Let's be clear about North Carolina's H.B. 2 and other "bathroom laws" popping up in states that would bar transgender people from using the restroom facility of their identified gender: We won't stand for it."
Bangladesh: Garment Workers, Unions Demand Justice on Anniversary of Activist's Murder: "Four years after the tortured, lifeless body of Bangladesh garment worker–organizer Aminul Islam was discovered in a ditch, his killers have yet to be arrested. Yesterday, the Bangladesh Garment and Industrial Workers Federation and Bangladesh Center for Workers Solidarity demanded that authorities find and bring Aminul's killers to trial."
Working Familes at Verizon Strike for a Better Workplace: "Working people at Verizon are on strike. After months of negotiations with the telecommunications giant, they've decided to take a stand to create a better workplace. They want to make sure the needs of working families are met, instead of standing by as a handful of individuals get richer and richer. They're fighting to stop the company from sending jobs overseas and to get Verizon to end its continued intimidation of working people at Verizon Wireless who are trying to create a better future for themselves and their families."
The Department of Education Just Did Something Major for Americans with Disabilities: "Starting yesterday, more than 387,000 people began finding out they qualify for complete forgiveness of their existing federal student loan debt."
What Colombia Can Teach Us About the TPP: "In the past five years, 126 trade unionists have been assassinated in Colombia. This is in addition to 74 other murder attempts. Investigations have produced almost no indictments or convictions. Colombia continues to fail to formalize employment, to protect working people who want a voice on the job and to address vast inequality."
$15 an Hour Is Only Part of the Answer: "This past week, two of this country's biggest states, California and New York, took monumental steps to combat income inequality in America. Both passed legislation to increase their minimum wage to $15 an hour in the coming years. That's more than double the paltry $7.25 an hour guaranteed by the federal government. More than 9 million working people will benefit from higher wages and larger paychecks. This is really life-altering."