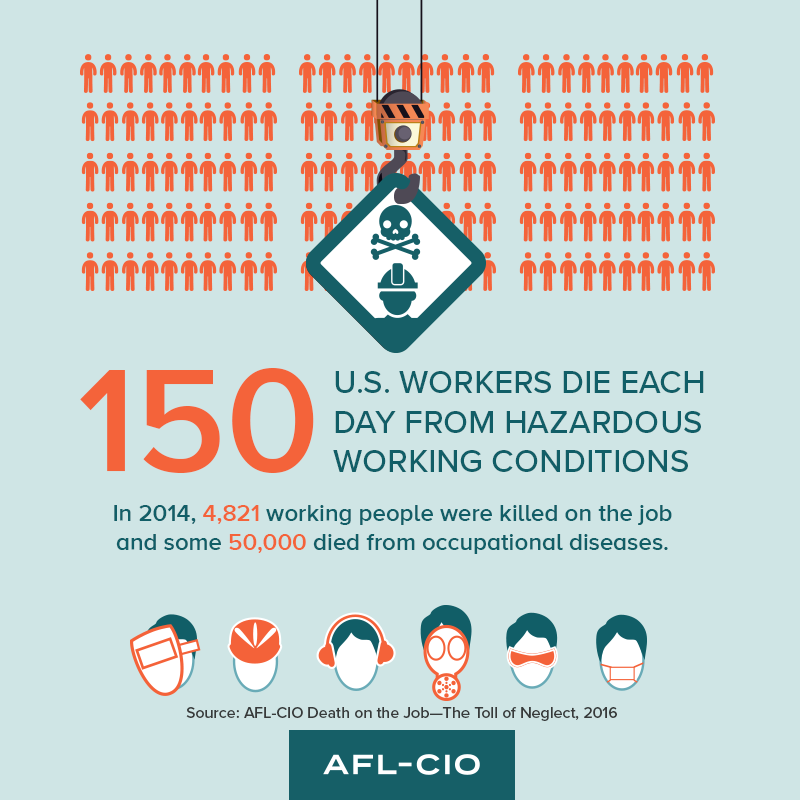 Today is Workers Memorial Day, a day we come together to remember working people who died and suffered on the job because of hazardous working conditions. In 2014, 4,821 people died on the job, millions more suffered serious injuries from their work, and thousands more working people become ill from deadly occupational diseases. These deaths are preventable.
On this day and throughout the week, working people and communities across the country and around the world hold vigils, rallies, marches and other events to mourn the loss of loved ones and rally for stronger safety and health protections on the job. Globally International Workers Memorial Day is being observed in more than 50 countries. http://28april.org/
Find a Workers Memorial Day event near you.
Throughout the years and still recently, unions of working people have won stronger safety and health protections. Just this year, working people celebrated the release of the final OSHA silica standard, which will reduce silica dust exposure in the workplace, and will save more than 600 lives and prevent nearly 1,000 cases of silicosis each year. Unions of working people have been fighting for this important standard for 45 years.
In 2015, working people won a new mine safety rule that reduces coal dust exposure limits and requires the continuous monitoring of dust in coal mines. This new rule will help prevent thousands of new cases of black lung and will reduce compensation costs. People who work in construction also won protections for confined spaces in 2015.
And we will keep pushing forward. There is much more work to be done to prevent people from becoming sick, injured or killed on the job.
This year is the 25th year we've published our report on the state of safety and health in the workplace, Death on the Job: The Toll of Neglect, which compiled 2014 injury and fatality data from BLS and FY 2015 enforcement data from OSHA.
Read key findings from the 2016 Death on the Job report.
On Workers Memorial Day, we remember all working people who have lost their lives, been maimed or are fighting chronic disease because of the work they do. And we join together to mourn for the dead and fight for the living. "Working people should not have to risk their lives to make a living and support their families," said AFL-CIO President Richard Trumka.
Together, we are working for safe jobs.
Find more information on Workers Memorial Day and the digital toolkit with infographics from the report.