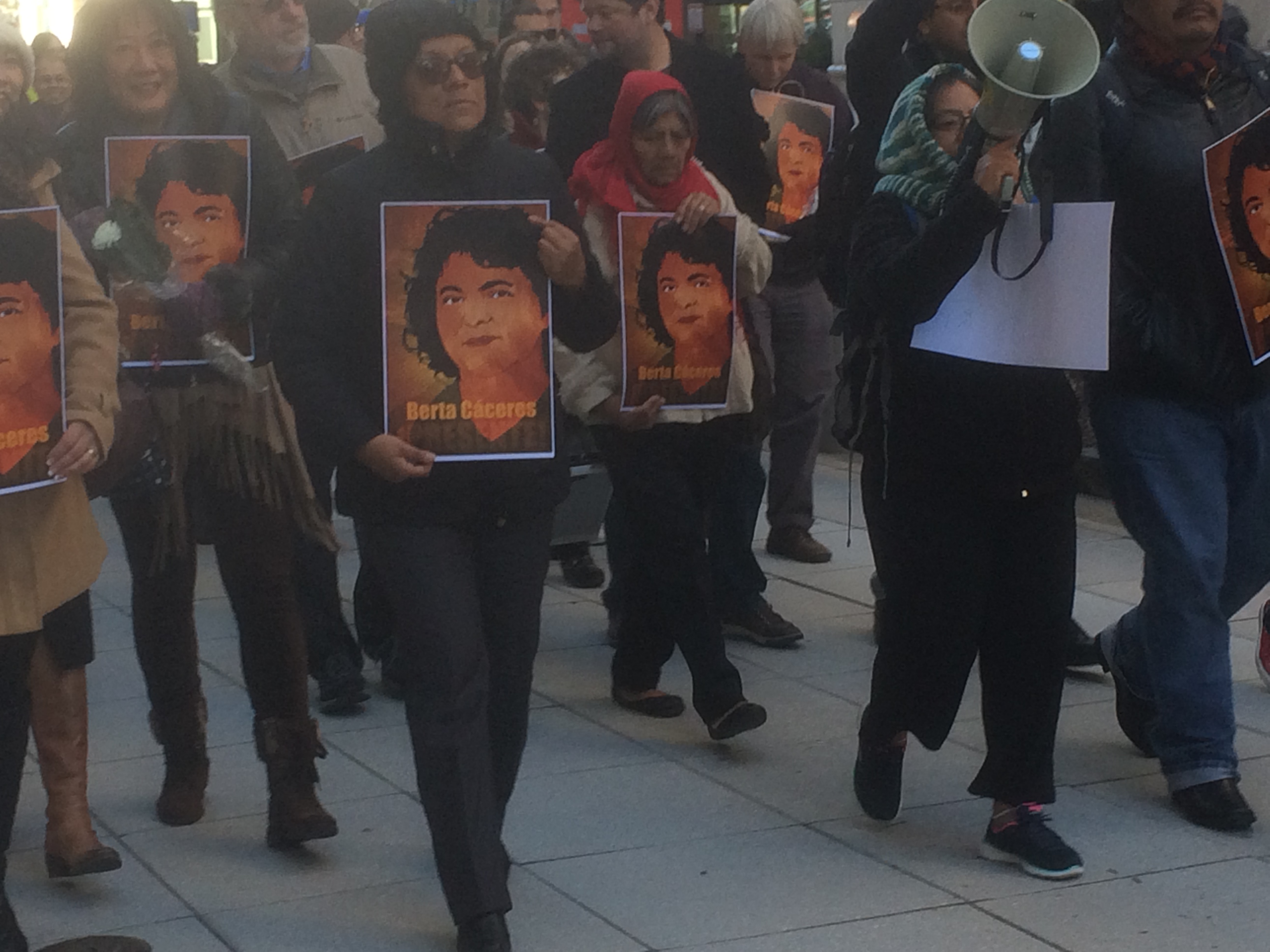 Like many who speak up in Honduras, indigenous leader Berta Cáceres was murdered for her activism. She was repeatedly threatened and eventually murdered just before midnight on March 2. Since 1993, Cáceres worked to build a democratic, just and sustainable Honduras. More than a month after her assassination, there is little reason to believe that the Honduran government is handling the investigation properly or addressing the causes of this and many other acts of violence against human rights defenders. As a reminder to those in positions of power to bring justice to Honduras, and in Berta's honor, the Cáceres family, movement leaders and allies of COPINH, the organization she founded, marched yesterday in Washington, D.C., from the World Bank to the Inter-American Commission on Human Rights.
The AFL-CIO returned from a five-day mission in Honduras to ensure that Cáceres' assassination is investigated in a timely and thorough manner. The AFL-CIO joined UNT of Mexico, another affiliate of the Trade Union Confederation of the Americas, and an international group of European and Latin American legislators, human rights lawyers and activists, environmentalists and indigenous leaders who met with government authorities and civil society groups.
In its meetings, the mission confirmed concerns that the government is not acting in a professional, transparent and impartial manner to hold those responsible accountable. In violation of Honduran law, the government has failed to reply to properly filed requests for information by the Cáceres family. The Honduran government also prevented Mexican environmental activist Gustavo Castro, who also was shot during the assassination, from returning to Mexico for nearly a month. Honduras never explained Castro's detention or responded to his lawyers' assertion that it violated Honduran law and a treaty between Honduras and Mexico. The United States also has failed to publicly clarify its role in the investigation and allowed the Honduran government and press to distort that role.
These concerns have been voiced repeatedly by Hondurans and international observers, who note that some 200 human rights activists seeking justice involving land, labor rights and broader political participation have been killed since the 2009 coup. Nearly 250 organizations signed a letter calling on the U.S. State Department to call for an investigation overseen by an international and independent commission.
Members of Congress have said the same. For example, Sen. Patrick Leahy (D-Vt.) stated, "The fact is we do not yet know who is responsible, but a professional, comprehensive investigation is essential and the Honduran government has neither the competence nor the reputation for integrity to conduct it themselves."
The United States and the European Union have trade and other agreements with Honduras that require the country to meet human rights conditions. These mechanisms must either be ended or used to bring about real change for all Hondurans now. Honduras suffers from widespread violations of labor law that go unpunished. Beyond labor issues, human rights violations and impunity continue unabated.
The Cáceres case must be a turning point regarding human rights accountability in Honduras in which the government finally demonstrates its commitment to the rule of law for all and ending impunity. Pressure by the U.S. government and international financial institutions is necessary to bring that about.