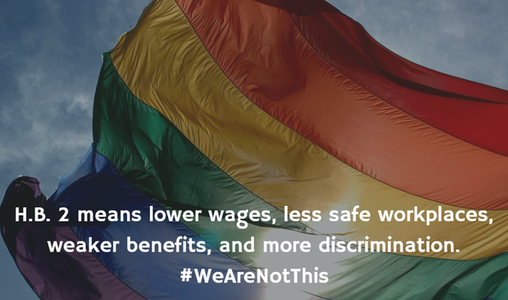 Every week, we'll be bringing you a roundup of the important news and commentary about issues and events important to working families. Here's this week's Working People Weekly List.
Americans Don't Miss Manufacturing—They Miss Unions: "Why do factory workers make more in Michigan? In a word: unions. The Midwest was, at least until recently, a bastion of union strength. Southern states, by contrast, are mostly right to work states where unions never gained a strong foothold. Private-sector unions have been shrinking across the country for decades, but they are stronger in the Midwest than in most other parts of the country."
Public to Get Online Access to U.S. Workplaces' Injury and Illness Records: "Richard Trumka, president of the AFL-CIO, the main U.S. union federation, praised OSHA's move. 'The new OSHA injury reporting rules will bring workplace injury and illness reporting into the 21st century and provide important new protections to workers who report injuries,' he said in a statement. 'Until now, most workplace injury records have only been available at the workplace, making it impossible to know which employers have bad or good injury records.'"
European Labor Leaders to America: Please Stop Donald Trump: "The AFL-CIO convened a conference this week titled 'Labor, Politics and the Threat from the Right: A Trans-Atlantic Discussion.' Predictably, one element of that threat was the unexpected rise of Trump as the presumptive Republican nominee. 'Guys, you've got to beat this guy, you've got to beat this guy,' Antonia Bance, head of campaigns and communications at the United Kingdom's Trades Union Congress, pleaded."
World Labor Leaders Call for 'Global New Deal' to Combat Demagogues like Trump: "Dozens of senior European labor union officials gathered this week at the AFL-CIO, the largest U.S. federation of labor unions, to trade ideas for fighting a xenophobic far right ascendant on both sides of the Atlantic. The conference on Monday and Tuesday, jointly organized by the AFL-CIO, Working America, the federation's outreach arm to nonunion workers, and the Friedrich Ebert Stiftung, a social democratic foundation funded by the German government, illustrates the extent to which progressive movements across the developed world have begun to view the far right as a common, and urgent, threat."
Gazette Editorial: Legislative Incompetence?: "Conservatives in the 2016 Legislature may have stampeded too quickly—borrowing language from other states—and thus botched the right-to-work law that was the prize achievement of Republican lawmakers. That's the legal argument of the state AFL-CIO, which plans a court challenge against the law designed to break labor unions. AFL-CIO officials told business writer Andrew Brown the GOP law is unconstitutional for two reasons."
Labor Group Intends to Sue over Right to Work Law: "The AFL-CIO, which represents more than 500 local unions and roughly 70,000 members in West Virginia, sent a letter Thursday to Attorney General Patrick Morrisey and the state's Commissioner of Labor John Junkins, in order to give them 30 days notice of the impending lawsuit, which is required under state law. According to the letter, the labor group intends to sue the state over the right-to-work law, which is officially referred to as the 'Workplace Freedom Act,' on the grounds that the law violates the state constitution."
How Oreos Explain the 2016 Election: "This election cycle, bashing companies that offshore work is the one thing the candidates have been able to agree on. Mass layoffs like the ones at Mondelez aren't exactly uncommon, but Americans take notice when jobs making what's been called 'America's Favorite Cookie' are relocated to Salinas. Voters see robust corporate profits going to executives—Rosenfeld raked in $19.7 million in total compensation last year, and $21 million the year before, according to the company's proxy statement—and stagnating or disappearing wages for everyday Americans."
Labor Leader Sees Role of Election 'Truth Squads' for Unions: "We have the secretary-treasurer of the national AFL-CIO, Liz Shuler, on the program today....'The role for labor is going to be a truth squad role, were we are educating and activating, not only union members. We think this election is one where we have candidates in the race that have very different position on issues like pay equity and raising wages, and health care, and retirement security,' said Shuler."
Attorney General Loretta Lynch Steps Up for the Transgender Community in North Carolina Fight: "Attorney General Loretta Lynch made one of the boldest and clearest statements in support of transgender people by a government official at any level this week: 'Let me also speak directly to the transgender community itself. Some of you have lived freely for decades. Others of you are still wondering how you can possibly live the lives you were born to lead. But no matter how isolated or scared you may feel today, the Department of Justice and the entire Obama administration wants you to know that we see you; we stand with you; and we will do everything we can to protect you going forward.'"
Top 5 Topics Discussed at the Donald Trump–Paul Ryan Summit: "Today, TV reality star and presumptive Republican presidential nominee Donald Trump is meeting with House Speaker Paul Ryan to iron out differences between them. While we would give anything to be a fly on the wall during that meeting, we can only speculate about topics of conversation."
AFL-CIO Welcomes OSHA's New Injury and Illness Reporting Rules: "AFL-CIO President Richard Trumka issued the following statement in reaction to new rules to modernize workplace injury reporting and protect workers who report injuries."
Looking for Love in All the Wrong Places: "Donald Trump, the presumptive Republican presidential nominee, bragged about his 'tremendous' support within unions. 'The workers love me,' he claimed."
Sentiment on Trade Policy Is Shifting: TPP Is Bad Policy, After All: "This year's political campaign has forced the economics profession to reconsider the fraying orthodoxy of free trade."
West Virginia AFL-CIO, Others Launching Legal Challenge of Right to Work: "The West Virginia AFL-CIO has joined with several other unions representing the state's working people in launching a legal challenge of the Republican-led legislature's 'right to work' law."