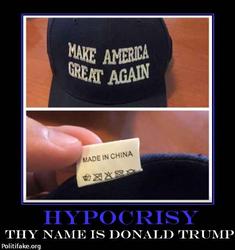 You're at the bargaining table.
The lead management negotiator slides over a piece of paper. "You're going to love what I'm proposing," the guy says.
"Honest. It's so good you don't even have to check it out. Don't read it. Just trust me. You know I want to do right by my workers."
What's that you say? "That dog won't hunt?" (Or you might use a two-word phrase that connects an uncastrated male bovine and what he plops in the pasture.)
Well, Donald Trump, the presumptive Republican presidential nominee, is shooting unions the same "trust me" line.
Where to start? How about Trump's oft-repeated promise to stop outsourcing, which he had no problem with before he ran for president. Oh, yeah, he's a big-time outsourcer himself. See here, here, here and here.
Trump says he'd make American firms quit sending jobs and production to cheap labor countries by smacking them with hefty tariffs, or import taxes. He's proposed a 45% tariff on goods imported from China and a 35% tariff on Ford cars and parts made in Mexico and sold stateside.
Here's the problem: A president can't impose any federal tax. Only Congress can. (Remember "No taxation without representation" from history class?)
The odds of Mitch McConnell and Paul Ryan going for an import tax—or any tax hike—aren't even slim and none. They're none and none.
If Trump wins, the Republicans will almost certainly hold the House and Senate and, more likely, enhance their majorities in both chambers.
I'd bet the farm Trump realizes a president can't levy a tax. So he's free to bloviate about sticking up for America's workers by sticking it to outsourcers with punitive tariffs knowing there's no way he can do it by himself and no way a GOP Congress would pass them.
But he's counting on working stiffs, especially those who've lost their good union jobs to outsourcing, to trust him and to swallow his sucker bait, hook, line and sinker.
Oh, Donald Trump-brand suits and ties are made in China. Does anybody think he really wants a tax that would hit him hard in the wallet?
Anyway, Trump also says union members love him. Never mind that he's fighting, tooth and nail, to keep his Las Vegas hotel workers from unionizing. Forget that Trump prefers "right to work" states to non-right to work states.
Boosting the minimum wage? Trump was against it. Now he wants to "let the states decide" whether to raise it. Here, the guy who claims to be a straight shooter is passing the buck, big time.
Trump is a lot like the Kentucky mule trader of old. He's happy to show his teeth but not the mule's.