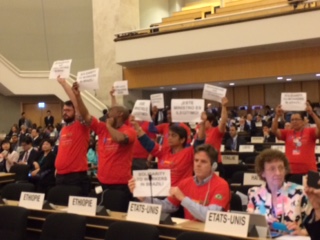 Workers from many countries this week made clear they reject the process in Brazil to remove democratically elected president Dilma Rousseff. Workers from around the world unite every June at the annual International Labor Conference in Geneva, Switzerland, to debate with governments and employers and defend workers' rights. While this year's meetings have focused on improving wages and conditions in global supply chains, worker delegations took the opportunity to make their opinions known when the interim government of Brazil's minister of labor began to address the plenary on Wednesday.
Wearing shirts saying, "We are Brazil. We are against the coup," worker delegates rose to their feet, holding signs that read, "This minister is illegitimate" and "Solidarity with Brazilian workers and democracy." Many shouted, "Minister of the coup."
Those leading the impeachment are themselves charged with corruption and stealing millions of dollars, while Rousseff is not. They have demonstrated their corruption repeatedly since assuming power. After taking office, the interim president named an all-white, all-male cabinet in a country where the majority is of African descent. Since then, revelations of corruption have surfaced regarding seven of the new ministers. Two already have been forced to resign. The minister of planning stepped down less than a week after taking office, when evidence emerged that he and other politicians had organized Rousseff's impeachment to protect allies in Congress from corruption investigations.
Joao Felicio, former president of Brazil's largest labor federation, CUT, and current president of the International Trade Union Confederation (of which the AFL-CIO is a part), thanked the AFL-CIO and its allies for joining the action. "There are acts of solidarity that you remember forever," Felicio said. "Today was one."
The AFL-CIO has made public its opposition to Rousseff's removal and was joined in the protest by the United Steelworkers, the New Trade Union Initiative (India), Jobs with Justice and Warehouse Workers for Justice (U.S.), Asia Floor Wage (Indonesia) and the National Guestworker Alliance (U.S. and Mexico).