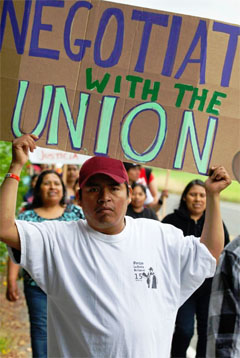 Each week, we take a look at the biggest friends and foes of labor. We celebrate the workers winning big and small battles, and we shame the companies or people trying to deny working people their rights.
Winners: Familias Unidas por la Justicia, for standing up to Sakuma Brothers in Washington for alleged racial harassment, wage theft and other unjust labor practices.
Runners-Up: Sisters in the Building Trades, after they reached out to help Negucci Women In Construction & Technology in Abuja, Nigeria, train the next generation of women in construction in the African nature. Add your contribution.
Losers: China, Guatemala, Qatar and the other countries named to ITUC's list of the 10 worst countries for workers.
Runners-Up: Florida Republicans, for what Labor Secretary Thomas Perez says are hypocritical efforts to prevent local governments from passing wage ordinances to protect working people.