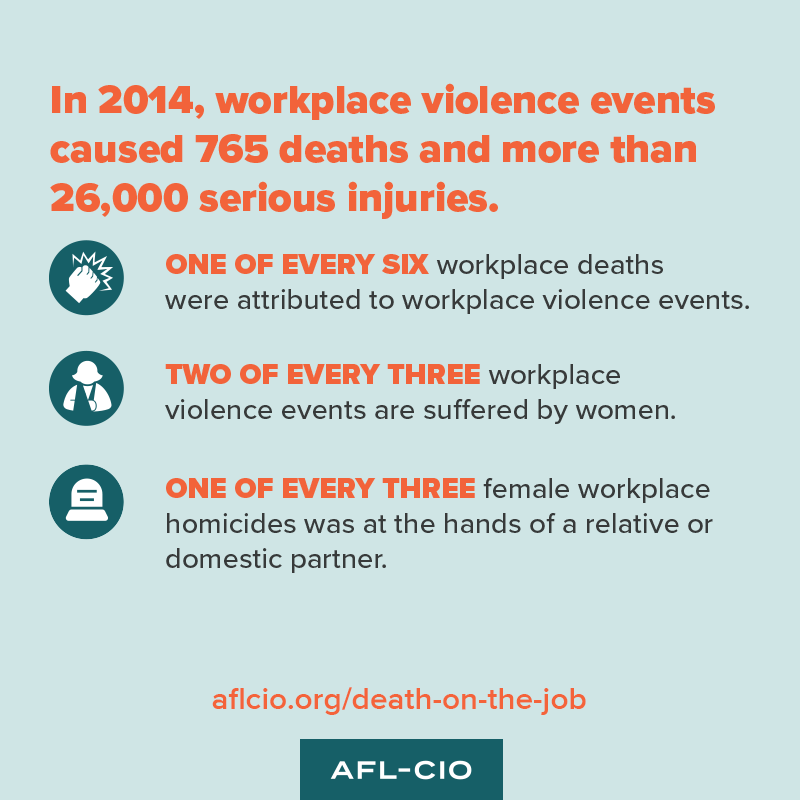 Violence on the job is a serious and widespread safety and health problem for millions of working people. Workplace violence is the second leading cause of job-related death in the United States and is responsible for an increasing number of serious injuries. The rate of injuries stemming from workplace violence has increased over the last several decades, while the overall rate for job injuries has declined.
Workplace homicide continues to be a serious problem, and workplace suicides have been on the rise in recent years. Many working people are at high risk of homicide on the job, particularly those tending retail establishments, protecting the public and operating transportation vehicles. Women are four times more likely to be killed by a relative or domestic partner at work than men.
Women also are more likely to sustain serious injuries from assault at work. People working in health care and social services, including home care workers and workers in psychiatric and government health care facilities, are at the greatest risk of being assaulted on the job—usually by a distraught or ill patient. Workers in these industries describe being attacked, beaten, tackled and threatened.
Violent, nonfatal attacks on workers are serious and underreported, often leaving workers physically and emotionally scarred for life.
In a March report, the U.S. Government Accountability Office recommended the use of violence prevention programs to counter the serious and growing concern of workplace violence for 15 million health care workers. Comprehensive violence prevention programs in the workplace help avert attacks, injuries and deaths at work. These programs can include safer designs, such as improved lighting and safe staffing levels; safer practices, such as removing dangerous objects and nailing chairs to the floor in psychiatric facilities; safer policies, such as solitary work procedures, injury-reporting systems, and patient history and evaluation; and improved response, such as de-escalation training and emergency communication systems.
The GAO recommended that the Occupational Safety and Health Administration improve certain enforcement actions and training, and consider regulatory action. A number of states have adopted laws, standards and policies on workplace violence, but they vary widely. There is no federal standard to protect workers from violence on the job, but employers are responsible for maintaining a workplace free from recognized hazards.
Most violence on the job is foreseeable and preventable, but too often working people are told that violence is just part of the job. Unions are advocating for a common-sense standard to protect workers from violence at work. Keeping workers safe keeps the public safe, too.
Read more about workplace violence in the 2016 Death on the Job report.