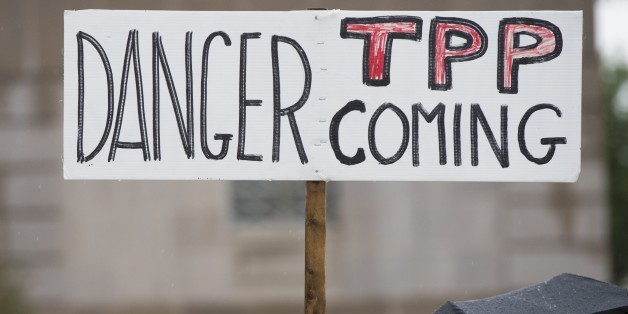 The Trans-Pacific Partnership, the huge new 12-country trade deal, raises the question: How low would we go to get the next NAFTA-style deal?
The basic idea of a trade deal is that we will lower our tariffs, you will lower your tariffs and trade goes up. That would be a trade deal.
TPP is much more than that. The tariff schedules in TPP are not controversial. Really, TPP will not pass or fail based on the tariff schedule. Rather, the rules in TPP are very controversial because the rules define power relationships, and those power relationships determine who will take the gains from globalization.
President Barack Obama wants us to set the rules, so China doesn't. Good.
But "our" rules were written by and for global investors. Those rules are very favorable to corporations that want to move production to low-wage countries with weak social and political systems.
Using very optimistic assumptions, the International Trade Commission estimates TPP would increase GDP by 0.15% after 15 years—a number too small to measure. Our lived experience with NAFTA, CAFTA and other deals tells a different story. Under those NAFTA-style deals, our economy has steadily de-industrialized and millions of jobs have moved to low-wage countries.
TPP's rules for dispute settlement create corporate-friendly tribunals, which pay no attention to our Constitution, our Supreme Court or our legal traditions, and are not accountable to any political process. These tribunals shield global companies from government actions intended to protect public interests.
TPP's toothless rules on currency rates allow China, Korea, Japan and other countries to distort trade, favoring goods produced in their countries for export to the U.S. This is great for U.S. corporations who produce in China but is bad for workers and communities in the U.S.
TPP's weak "Rules of Origin" encourage high-wage countries to source more of their products in low-wage countries. Countries with terrible labor and environmental standards can ship parts to 11 other TPP countries, and voilà!—those parts are now TPP-qualified for favorable access to our markets.
TPP's rules on labor and human trafficking are pathetic. Malaysia qualifies as one of our TPP partners, even though our State Department ranks Malaysia among the worst in the world for human trafficking. Malaysia has a documented history of forced labor and the worst forms of child labor. Malaysia knows that we will never hold them accountable for improving conditions.
Our indifference to global labor standards is so deep that Vietnam can embarrass Obama—to his face—during his latest trip there, by forbidding labor activists from accepting Obama's invitation to meet with him. Obama inspires us with soaring rhetoric on human rights in Vietnam, but Vietnam's leaders know we will never hold them accountable for improving labor conditions.
TPP's environmental protection rules are a step back from earlier standards. That is neither here nor there, because we have never enforced any environmental rules in any trade deal, in spite of repeated documented violations. Peru and other countries with sorry records for environmental standards know we will never hold them accountable when they ignore environmental standards.
Berta Cáceres, an internationally recognized Honduran environmental activist, was assassinated in her home. Honduras is one of our CAFTA trading partners. Honduras is arguably the most dangerous country on earth for environmental activists. Civil society around the world condemned Berta Cáceres' murder, but not a word can be found on the websites for the White House or the U.S. Trade Representative.
Another CAFTA trading partner is Guatemala, which is arguably the most dangerous country in the world for labor activists. Our trade officials have "consulted" with Guatemala, and an eight-year-old inquiry is underway into Guatemala's dismal record regarding labor standards. Honduras, Guatemala and Colombia (another free trade partner) know we will never hold them accountable for improving labor conditions.
So, how low would we go to get the shadowy 0.15% growth of GDP after 15 years with TPP? Influential House and Senate members will answer that question.
For many years, Rep. Sander Levin (D-Mich.) has been a strong advocate for trade language that raises labor and environmental standards and protects access to life-saving medicines for treatable diseases in developing countries. As TPP negotiations finished up, Levin realized that TPP was a step backward. He opposes TPP and is a champion for a better trade policy.
Levin's postcard description from Vietnam describes labor leaders being beaten and jailed. His message stands in contrast to Obama's weary acceptance of conditions there.
Rep. Earl Blumenauer (D-Ore.) was an early champion for stronger environmental rules in trade deals. Peru ignored its commitments under previous trade deals and recently fired the public official who was trying to move those standards forward. We will see how low Blumenauer might go.
Sen. Ron Wyden (D-Ore.) worked hard to reveal the details of TPP, which were negotiated in strictest secrecy. He promoted "Oregon values," which meant creating good jobs in his state, promoting human rights, improving labor conditions, safeguarding the environment and protecting a free and open internet. Now, Wyden must decide if TPP upholds Oregon values or is too low to go.
House Minority Leader Nancy Pelosi (D-Calif.) said her leadership role did not obligate her to promote a bad trade policy. She said she would happily vote for a deal that does as much for workers and the environment as it does for global investors.
Hillary Clinton says she "opposes TPP before and after the election." She adds, "I'm not interested in tinkering around the margins of our trade policy. I think we need a fundamental rethink of how we approach trade deals going forward. It is critical that we address labor protections and ensure that human rights are protected, as well as health, environmental and consumer safety issues in any new trade agreements."
Larry Summers(!!) backs away from TPP, preferring a trade approach where "issues such as labor rights and environmental protection would be central, while issues related to empowering foreign producers would be secondary."
TPP is a historic disappointment. Sander Levin, Hillary Clinton, Larry Summers and Nancy Pelosi recognize that we can't tweak TPP into shape. We need a new approach. To paraphrase Naomi Klein, "TPP is the no that must be said before the yes."
The more the public hears about TPP, the less we like it. For most voters, TPP is too low to go. We are very much looking forward to stopping TPP, and starting a "rethink" of our approach to globalization.