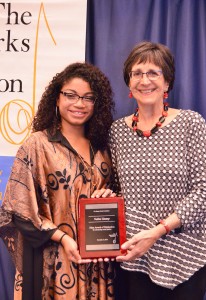 The Berger-Marks Foundation is now accepting nominations for the annual Edna Award for Social Justice and the Kate Mullany Courageous Young Worker Award through Sept. 16.
The Edna Award is a $10,000 award given by the foundation to a young woman who has made significant contributions to social justice and whose leadership is fueling social change. The award named after Edna Berger, the first woman organizer of The Newspaper Guild, a longtime activist for social justice and the foundation's namesake.
Nominations will be accepted through midnight on Sept. 16, 2016, and must be submitted online. Award winners will be announced in December 2016 and honored at an event in Washington, D.C., on Feb. 9, 2017.
Visit our website for more information about the awards and links to the nomination forms.