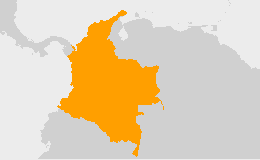 On July 15, the U.S. government accepted a complaint saying that Colombia is failing working families in violation of its commitments in the U.S.–Colombia Trade Agreement. Here are five reasons why:
1. Workers who try to organize unions face ongoing threats, violence and firing across all sectors of the economy.
2. Employers use illegal forms of hiring to avoid a direct employment relationship and the responsibilities it brings and the rights it gives to workers. From health and retirement to workplace safety to organizing and bargaining rights, employers thus act illegally to reduce workers' rights, benefits and collective power. The U.S. government said the trade agreement would reduce these practices. In fact, over the past five years, the number of workers hired through illegal arrangements has increased by 10%.
3. In violation of their own laws and commitments in the trade agreement, employers consistently refuse to bargain. Only about 0.5% of Colombian workers (100,000 of the country's 22 million workers) have a collective bargaining agreement.
4. When workers file complaints about these and other violations of their rights, they face endless delays from the government in getting responses. When responses arrive, they do nothing to stop violations or hold violators responsible. Workers in the cases in the complaint have been seeking justice for four years—practically from the day the trade agreement went onto effect.
5. Aside from all the illegal actions by employers and failure to act by the government, the Colombian police and army frequently use excessive violence against workers attempting to exercise their rights. Many workers have been seriously and permanently injured—losing vision, hearing and brain function—by government forces. Especially as the government tries to build a sustainable peace in Colombia, such state violence has no place.
We welcome the acceptance of the complaint but must ask why the U.S. government did not act to defend workers' rights with this trading partner instead of waiting for workers in both countries to petition the U.S. government to enforce its own agreement.
Given this failure to enforce the terms of the trade agreement with Colombia, we have no confidence that the United States will act to protect workers under the Trans-Pacific Partnership. Now the U.S. government has six months to produce a public report evaluating workers' claims. The U.S. government has rarely met this deadline. Along with our Colombian brothers and sisters, we will remain engaged with U.S. and Colombia authorities to ensure a prompt and thorough report.