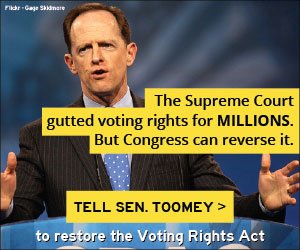 As with every election cycle, working families are paying close attention to which candidates champion them and which candidates promise policies that will hurt us. Here are some stories from this past week that show what we're saying and who we're saying it about:
Donald Trump's economics advisor just agreed, "It may be" that Trump's a fraud. https://t.co/DX7XA1hKyZ

— Hardball (@hardball) June 30, 2016
Trump's Economic Agenda Unites Business and Labor—In Opposition: "The larger story is that Trump's agenda has actually united powerful groups on both sides of the economic divide—ones that are often at odds with one another—in agreement against it. Big business and big labor both have been sharply critical of Trump's economic program. To some degree, this is because they oppose him for different reasons. But both are also criticizing him on trade in particular, his core economic issue."
Union Group Launches Facebook Ads Against Joe Heck: "The AFL-CIO on Thursday launched digital Facebook ads that attack U.S. Rep. Joe Heck, the Republican candidate in the U.S. Senate race for the seat of retiring Minority Leader Harry Reid, D-Nev. Some of the ads remind viewers that the GOP candidate for president is Donald Trump, saying: 'Tell Rep. Heck to speak out against Trump's hate.'"
Organized Labor Launches First Salvo in Fight for Senate: "The AFL-CIO is making its first foray into 2016 Senate races Thursday with a six-figure digital ad buy in six key races, officials told NBC News. The targeted Facebook ads will run in Ohio, Missouri, Pennsylvania, Nevada, Florida and Wisconsin, each of which have competitive Senate races....'Working people will be a force in this election,' AFL-CIO President Richard Trumka said in a statement. 'These ads are just one of the many tools we will use to speak to our members and the community about what's at stake. Our job is to educate working families on the candidates who aspire to lead America. We will stand together with politicians who share our values and oppose those who do not.'"
Pa.-Sen: AFL-CIO Launches Anti-Toomey Online Ad Campaign: "Rick Bloomingdale, President of the Pennsylvania AFL-CIO, declared that Toomey 'fails to stand up for working Pennsylvanians. Whether he's supporting bad trade deals that destroy our jobs or allowing billionaires to pay lower taxes than nurses and teachers, Senator Toomey leaves working people out in the cold.'"
AFL-CIO Official Calls Trump 'Complete Fraud' on Trade Policy: "Donald Trump's rhetoric on U.S. trade 'doesn't match the record' because the mogul's own business practices contradict his promises to protect workers from overseas competition, AFL-CIO spokesman Josh Goldstein says in an interview....Trump 'is a complete fraud when it comes to trade.'"
When the @USChamber and @AFLCIO agree you'd be terrible for the US economy... pic.twitter.com/5ywHGqTaq9

— The Briefing (@TheBriefing2016) June 29, 2016