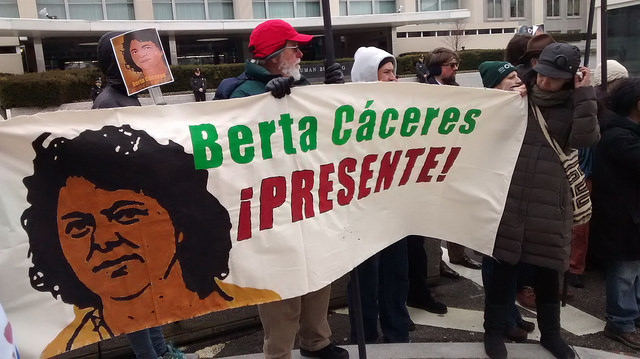 The AFL-CIO supports the Berta Cáceres Human Rights in Honduras Act, which would suspend all funding to Honduran security forces. These forces have engaged in well-documented cases of excessive use of deadly force, abuse of power and entrenched corruption. Just this week, another indigenous activist, Yaneth Urquia Urquia, was kidnapped and murdered. The AFL-CIO calls for a suspension of funding from the U.S. Congress and loans from multilateral development banks until abuses by security forces stop and those responsible are prosecuted.
The United States has politically and financially supported years of failed programs to reform the national security institutions of Honduras. U.S. support should no longer go toward institutions that have long acted with impunity and exhibited an entrenched culture of corruption and violence. These security forces have been implicated in persistent violation of human rights against a broad range of Hondurans, including rural workers, journalists, LGBT activists, trade unionists, indigenous communities and those of African descent defending land rights.
The AFL-CIO will continue to monitor the State Department's human rights certification process and restrictions on military funding in Central America. U.S. support to Honduras should be maintained and increased to Honduras and its neighbors Guatemala and El Salvador to strengthen civil society, the rule of law and provide access to justice. Funding for sustainable local development and decent work in communities should be prioritized over military solutions that have proven not only ineffective, but led to increased violence and corruption and more Hondurans fleeing their homes.
Read the full text of the proposed legislation.