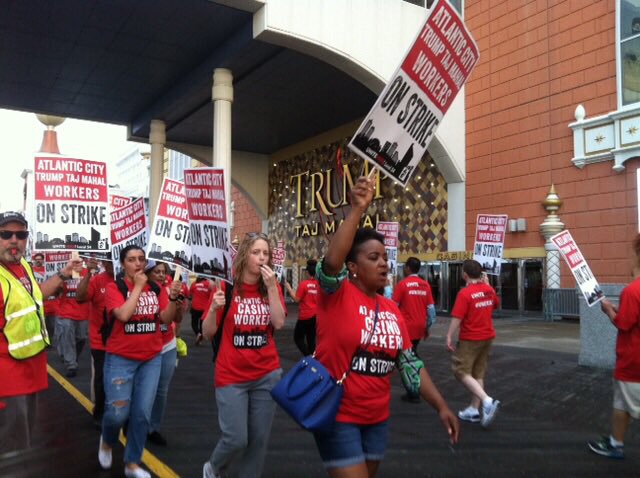 Working people at the Trump Taj Mahal casino in Atlantic City, New Jersey, walked off the job on Friday, launching a strike against the greedy actions of billionaire Carl Icahn, the current owner of the casino. Workers at other Atlantic City casinos reached tentative agreements last week, but Icahn's opposition to treating working people fairly means that nearly a thousand cooks, housekeepers, servers and other staff are on strike.
While the cost of living in Atlantic City has risen more than 25% in the past 12 years, many of the workers at the Taj Mahal have seen raises during that time of less than a dollar combined. More than half of the casino's workforce are women, many of whom have families to support.
Mayra Gonzalez, a chef at the Taj Mahal for 26 years, explained the workers' frustration:
We've sacrificed long enough to make the Trump Taj Mahal a success. It's time that the billionaire who owns the Taj use the millions in profits he's taken from the Taj Mahal to provide the people who built those profits with a decent wage and good benefits that let us support our families. We've given them every chance possible to do the right thing, now we're going to take it to the streets.
Bob McDevitt, president of UNITE HERE Local 54, knows how important places like the Taj Mahal are for Atlantic City:
We have said from the beginning that it is impossible to revitalize Atlantic City unless the casino industry offers good jobs that let workers support their families. Four other casinos have recognized that simple fact, and it's a shame that the Trump Taj Mahal can't get with the program.
The New Jersey State AFL-CIO explained what the casino employees are fighting for:
Workers, unlike the billionaire Icahn, have a vested interest in the future of Atlantic City and the casinos that have allowed them to provide for their families. Workers have made the necessary sacrifices to help casinos weather Atlantic City's economic storm. Now, as the industry begins to stabilize, workers are seeking a restoration of a week or more of paid vacation; a modest wage increase of $3 per hour, to be phased in by 60-cent increments over five years; and employer contributions to the union's health fund so workers can afford to keep benefits at current levels.
Sign our petition supporting the striking workers or show your support with a Twibbon for Facebook or Twitter. You can follow the continuing story on Twitter with the #UniteAC hashtag.