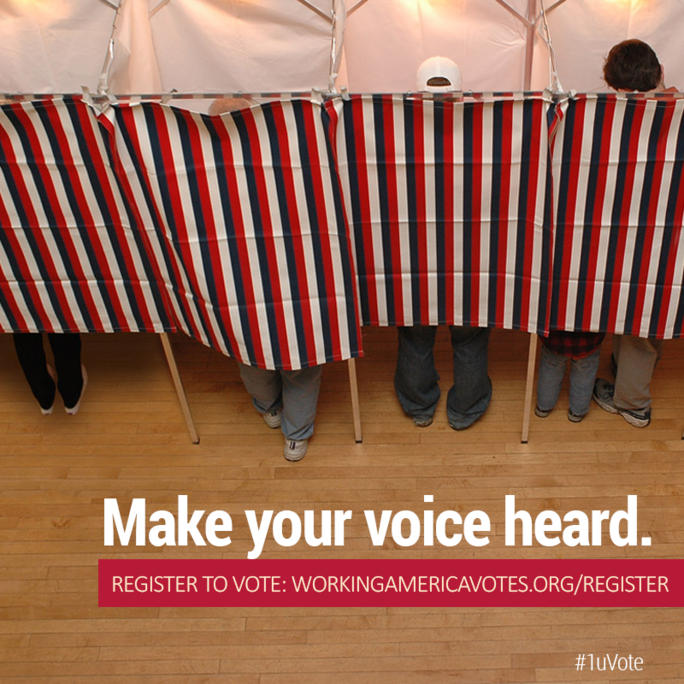 Every week, we bring you a roundup of the top news and commentary about issues and events important to working families. Here's this week's Working People Weekly List.
It's Time to Register to Vote, and It's Easier Than Ever: "Election Day is looming on the horizon, and it's closer than you may think. This year, we'll have the chance to beat back attacks on working families. But that won't happen if you and your family and friends aren't registered to vote."
Donald Trump and Mike Pence's Bad Week in Pennsylvania: "Mike Pence is in Pennsylvania stumping for the Donald Trump presidential campaign and, well, it's not going so great. Here are just some of the newspapers that are speaking out against Trump's divisive campaign and policies that would devastate working families."
This 81-Year-Old Star Has Never Been Hotter: "Okay, so you don't quite know what to expect with that headline. I'm not talking about Betty White (age 94) or Tony Bennett (age 90). And this isn't an AARP The Magazine cover story about Harry Potter's Professor McGonagall...I mean Maggie Smith (yes, she is 81). Don't have my number yet? Odds are you have your own number, though."
Check Out Trumka's New Interview in Bloomberg Businessweek: "What did AFL-CIO President Richard Trumka want to be when he grew up? Why should you join a union? Find out the answers to these questions in the new Bloomberg Businessweek out this week."
Stand #WithRefugees Ahead of Global Summit: "AFL-CIO Executive Vice President Tefere Gebre, who came to this country as a child refugee, has a message for world leaders: 'It's time to step up.' This Sept. 19 at the United Nations, governments will meet in a global summit to develop a plan for addressing large movements of refugees and migrants. It is essential that they make commitments to open up opportunities, rather than close borders, and work together to protect the human and labor rights of families on the move."
From LA with Love: The Time When Justice Trumped Business: "July 2016 is an important month in the history of the city of Los Angeles. That history is one of a pro-business city, where a trajectory of unbridled capitalism, as well as contemporary expectations of how the economy should work, did not point to success in implementing what became one of the most impactful minimum wage and wage-enforcement ordinances across the country. July 2016 is a month when, against great obstacles, justice trumped business."
Union-Made Car Quiz: Two Union Members Will Win $5,000!: "In honor of Labor Day, Union Plus is celebrating with a sweepstakes so nice, you can enter twice. Here's how it works."
Zara Workers in New York Vote to Join Retail Workers Union: "Last week, working people at eight Zara locations in New York chose to join the Retail, Wholesale and Department Store Union (RWDSU). Zara is owned by Inditex, the world's largest fashion retailer, and the company did not oppose the union drive. More than 1,000 employees will now be represented by RWDSU Local 1102. RWDSU represents workers at retail stores such as Macy's, Saks Fifth Avenue and Bloomingdale's, and supermarkets, drugstores and car washes."
Working for Our Future: Young Working People Are Next Up: "Monday night in Cleveland, the AFL-CIO's young worker program, Next Up, hosted a town hall, Working for Our Future, which addressed issues for young people, by young people, and how they can make a major difference in this election and their communities."
Gov. Larry Hogan Is Afraid of Teachers: Winners and Losers of the Week: "Each week, we take a look at the biggest friends and foes of labor. We celebrate the workers winning big and small battles, and we shame the companies or people trying to deny working people their rights."
Trumka: Trump Speech Ironic, Deceitful, and Simply Offensive: "AFL-CIO President Richard Trumka released the following statement in reaction to Donald Trump's economic plans."