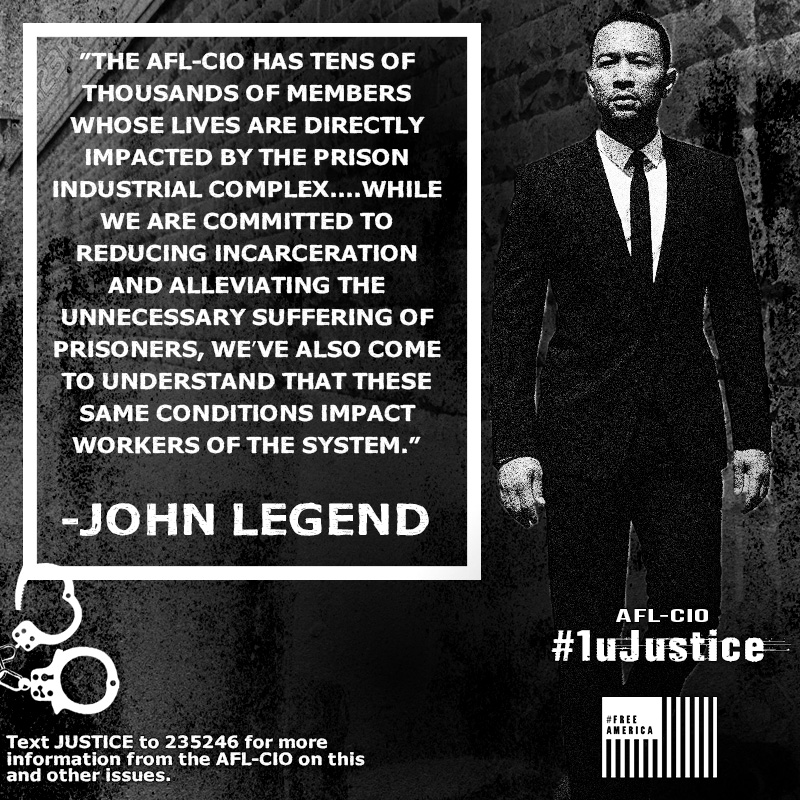 The Department of Justice announced today that it would stop the use of private contractors, such as Corrections Corporation of America, to run prisons under their jurisdiction. The announcement comes on the heels of damaging reports about the safety, security, and oversight of private prisons released by DOJ and Mother Jones in recent months.
AFL-CIO President Richard Trumka released the following reaction:
The labor movement applauds the Department of Justice for taking the necessary steps to end their use of private prisons. Privately run prisons have a long record of being less safe and providing fewer resources and opportunities than publicly run institutions.
Our criminal justice system can never be fair while there is money to be made in locking up individuals. The entire labor movement will continue to fight until all incarcerated people are treated with dignity and every man and woman who works inside a correctional facility is safe on the job.
AFSCME President Lee Saunders applauded the move as a step in the right direction:
Whether at the federal or state and local level, private prison operations have long been a stain on our nation's criminal justice system. Compared to publicly run correctional facilities, private prisons provide a fraction of the safety and rehabilitation our communities should expect. They have not kept us secure, nor have they delivered savings to the taxpayers—instead, corporate prisons have profited off of the suffering of our communities and have led the way to mass incarceration and the immoral detention of immigrant families in privately operated facilities that just this week were revealed in reports to be wasting taxpayer money.
Today's announcement reinforces what we have long asserted: The dedicated women and men working in our nation's federal, state and local public prisons keep our communities safe, day in and day out, and they do it more cost effectively than at prisons operated for profit by private corporations. Private prisons are a failed experiment. We wholeheartedly applaud the Justice Department's decision to end their use and call on state and local governments, as well as the Department of Homeland Security, to follow the federal government's lead on this decision.
DOJ's decision affects 13 federal prisons currently operated by private companies under the department's purview. Other federal prisons will continue to use private contractors. The bulk of federal private prisons work with the Department of Homeland Security, which uses them for the detention of immigrants. As Think Progress notes, those prisons are plagued with problems that make the conditions unsafe for both inmates and prison employees:
Unlike federal and state prisons, which have strong corrections officers unions that require some modicum of safety and labor standards, private prisons are often understaffed to a dangerous degree. CCA was caught partnering with gangs to save money and keep prisons in order. Other private prisons have frequently been overtaken by riots and protests over the disgusting conditions.
Men, women and children packed into private immigration detention centers are often forced to sleep on cold floors or in bug-infested tents, sexually assaulted by guards and go without edible food or other basic services. Many have even died because their medical needs went ignored, or because the conditions have re-traumatized them, driving them to suicide.
Despite the many reports of human rights violations, [Immigration and Customs Enforcement] has failed to investigate these prisons and continues to renew contracts — even as the DOJ admits that egregious abuses in private prisons have prompted their decision to stop using them.