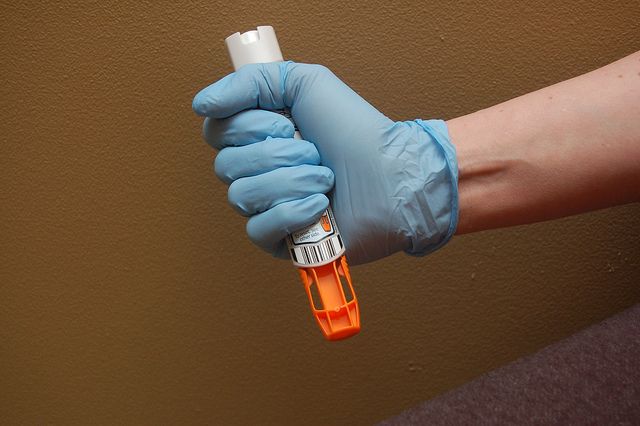 There's only one word to describe the executive pay at Mylan.
Outrageous.
Mylan, which sells the EpiPen, paid its CEO and other top executives nearly $300 million over the past five years. That's the second-highest executive pay in the entire U.S. pharmaceutical and biotech industry, even though Mylan is a relatively small player.
The drug company recently has been denounced for hiking the price of the EpiPen to more than $600 for a two-pack. That's nearly a 550% increase since 2007, when the company acquired the rights to sell the EpiPen. An EpiPen is used to inject a dose of lifesaving epinephrine in case of food allergies and insect stings.
In the five years that ended December 2015, Mylan paid its CEO Heather Bresch and other top four executives $292.1 million. That exceeds what far larger pharmaceutical companies such as Johnson & Johnson, Pfizer, Bristol-Myers Squibb and Eli Lilly and Co. paid their top executives during that period. One reason for its very high executive pay is that Mylan paid Bresch and two other top executives at least $70 million each.
Outraged?
Then how about this: The company may have raised the price of the EpiPen to enrich the executives. In 2014, the top executives received a special grant of stock that was tied to the company's stock price rising to a certain level by 2018. And because the EpiPen accounts for a sizable chunk of the company's revenues, raising its prices would help the executives meet their targets and collect a windfall.
There's more to be outraged about: The company is bilking U.S. taxpayers while profiting from U.S. patent protection for the EpiPen.
Last year, the company moved to the Netherlands to avoid paying U.S. income taxes. It then paid its top executives $17 million to reimburse them for U.S. taxes they owed in connection with that move. Although the company is Dutch for tax purposes, the company is still run from a Pittsburgh suburb, where it takes advantage of public services paid for by American taxpayers.