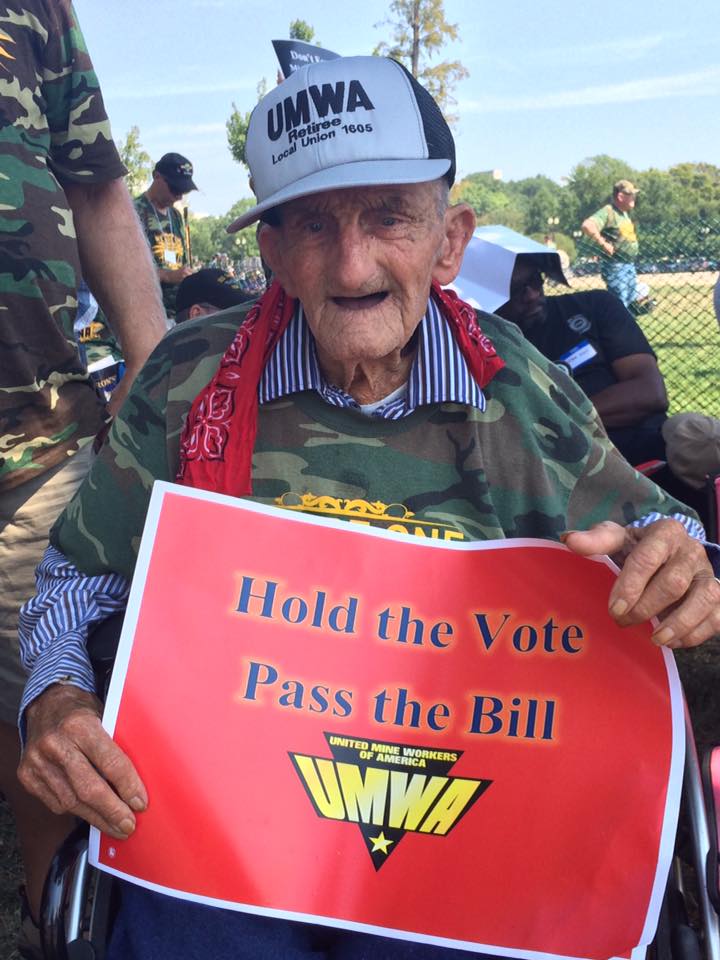 Every week, we bring you a roundup of the top news and commentary about issues and events important to working families. Here's this week's Working People Weekly List.
Retired Mineworkers Call on Congress to Protect Their Pensions and Health Care: "Last week, 10,000 retired coal miners and their families came to Washington, D.C., to ask Congress to pass legislation that would secure health care for 22,000 and pensions for 120,000 retirees. As the coal industry struggles, some coal companies have been relieved by bankruptcy courts of their obligations to pay health care and pension contributions for retirees. But allowing these benefits to lapse would be not only devastating to the families of the coal miners who worked so hard to keep America out of the dark, it would be the abandonment of a promise made to coal miners in 1947."
Hillary Clinton Has a History. Of Standing Up for Union Workers: "She's with us. Long before she started running for president, Hillary Clinton was a champion for working people and the unions that represent them. That's why we're working hard to make sure she's the next occupant of the White House."
About Time We Got a Raise: Winners and Losers of the Week: "Each week, we take a look at the biggest friends and foes of labor. We celebrate the workers winning big and small battles, and we shame the companies or people trying to deny working people their rights."
Trump's Economic Advisers Are Good...at Getting Rich Off the Backs of Working People: "Seven of the 13 white men on Donald Trump's economic team are hedge fund managers or Wall Street bankers who made billions off of the housing crisis, and by taking advantage of bankruptcies, and/or investing in companies that price-gauge lifesaving medicines and put workers' safety at risk. They speculate on risky enterprises and take advantage of government programs designed to repair the destruction left by high-risk lending. Trump's advisers are focused on maximizing short-term profits for themselves, at times at the expense of the health and well-being of working people. They have shown no interest in developing stable jobs for working people. What kind of an economy can we expect from them?"
EpiPen Profits Flow into Mylan Executives' Pockets: "There's only one word to describe the executive pay at Mylan. Outrageous."
Working People Reach Out on National Labor 2016 Day of Action : "Across the country, union members joined together for a national day of action last weekend, filled with canvasses and phone calls for labor issues and pro-worker candidates."
Census Data Welcome and Hard-Earned Signs of Progress: "AFL-CIO President Richard Trumka released the following statement in response to a new Census Bureau report showing the fastest middle-class wage growth on record."
Trump Is Wrong for Working Women: "If you haven't figured it out yet, Republican presidential nominee Donald Trump is wrong for working women. He has made this clear throughout his life and continues to do so with his words and policy proposals this election. He doesn't support women, and women shouldn't support him. AFL-CIO Secretary-Treasurer Liz Shuler introduces this video that takes a look at Trump's history with women."
Unions Honor 9/11 Victims and Survivors by Building One World Trade Center: "In the aftermath of the terrorist attacks of Sept. 11, 2001, some of the smartest minds in the country already were working on ideas on how to memorialize the tragedy. The ensuing discussions led to the design and building of One World Trade Center, which was completed in 2015 as not only the tallest building in the Western hemisphere, but one of the safest and strongest buildings ever built."