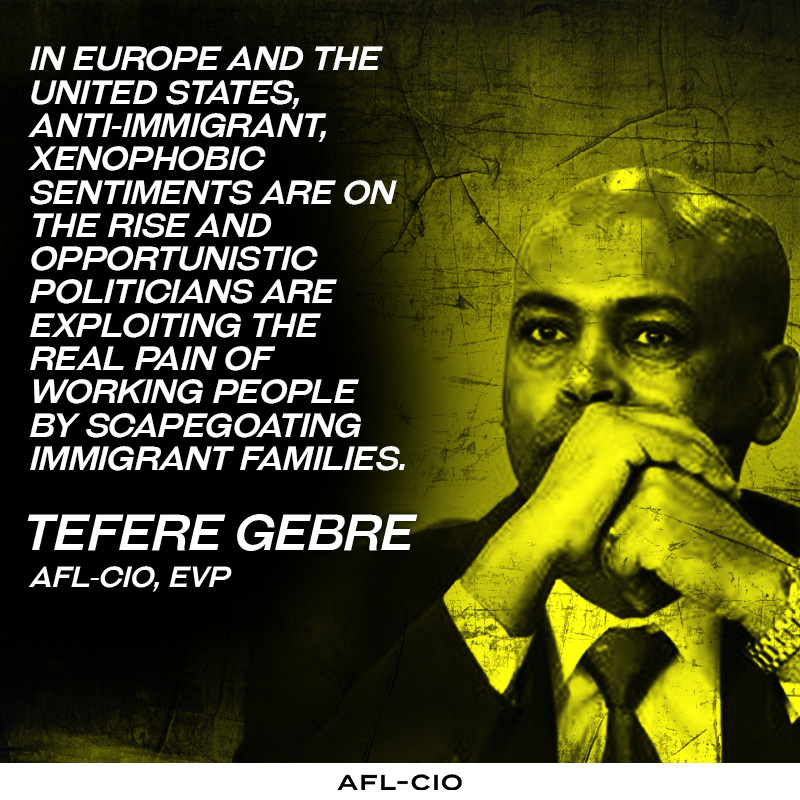 AFL-CIO Executive Vice President Tefere Gebre addressed the United Nations today about embracing this historic opportunity to create a more just system for migrants and refugees.
Gebre is a refugee from Ethiopia and walked 93 days through the desert as a teenager to find his freedom in America.
Below are Gebre's remarks to the United Nations:
Good afternoon, I am honored to be here today to share my perspective as a migrant, a refugee, a person of color and a labor leader.
I've logged many miles to get to this point. I was a child when I left Ethiopia at the age of 13 to escape political violence. After numerous brushes with death, I was given refuge by the government of Sudan and eventually settled in the United States.
I know, firsthand, how much refugees and migrants can achieve and contribute when they are given a chance.
Since arriving here, I've spent my life organizing to ensure that all workers, regardless of immigration status, can exercise their rights and collectively lift each other up. That's why I feel so strongly that we must embrace this historic opportunity to build a more just global system for millions of other migrants and refugees.
It is essential that any new commitments on migration empower workers to exercise their rights. We call on the leaders gathered here to produce a global compact that gives workers of all skill levels a real chance at family reunification and permanent migration. "Safe, regular and orderly" is a bare minimum. Instead, we must pursue a rights-based approach that raises standards for all working people.
Many existing regular channels for labor migration do not meet that basic standard and are not just, fair, or even, in many cases, safe. From the Gulf region, to Southeast Asia, to North America, workers entering circular or temporary labor migration programs face exploitative recruitment practices, are restricted in their movement and risk detention and deportation if they dare to speak up, threaten to leave or otherwise exercise their rights. These are the fundamental failures of an employer-controlled visa system.
Much is made of the injustices of the Kafala system, but the pathways for migrants to work in my country are not so different. In the United States, the land of the free, one recent study found that 71% of labor trafficking victims entered on lawful visas, and victims paid an average of $6,150 in recruitment fees. Another study found that Mexican workers in the low-wage H-2 visa program experienced employment conditions and wages as poor as, or worse than, irregular Mexican migrants in the same industries. These pathways may be regular, but I ask, are they safe?
These programs do not empower workers and families, nor do they contribute to equitable development. They merely continue to swell corporate profits at the expense of workers.
Expanding such regular pathways — already the norm in destination countries — is the wrong way forward. With xenophobic sentiments on the rise and opportunistic politicians exploiting the real pain of working people, we cannot build equitable societies with proposals that further divide workers and exacerbate inequality.
We need a different approach that elevates the human and labor rights of migrants and allows workers to exercise those rights without state or employer interference.
To achieve sustainable development and human rights, we must also tackle the root causes of displacement — including failed trade and economic policies, crushing poverty, climate change, lack of access to education and quality public services, and violence. These elements are clear drivers of displacement and many are well within states' power to address. It is time to focus on preventing mass movements, rather than simply responding to them.
As these summits conclude, and the negotiations on the compact begins, we call on our leaders to shape these commitments through social dialogue, listening to the voices of workers and migrants, not just wealthy corporations. The leadership of the ILO should be central to this effort as they hold a rights-based mandate and operate through an established tripartite process that brings legitimacy and balance.
As trade unionists, we know firsthand that the protection of migrant rights is essential to achieving decent work. We continue to demand that our world leaders use this global process to help build a more equitable and prosperous world.
Gebre and global labor allies will be hosting an event outside the U.N. on Tuesday, Sept. 20, from 10 a.m. to 11 a.m. Tune in through the AFL-CIO Global Facebook page.