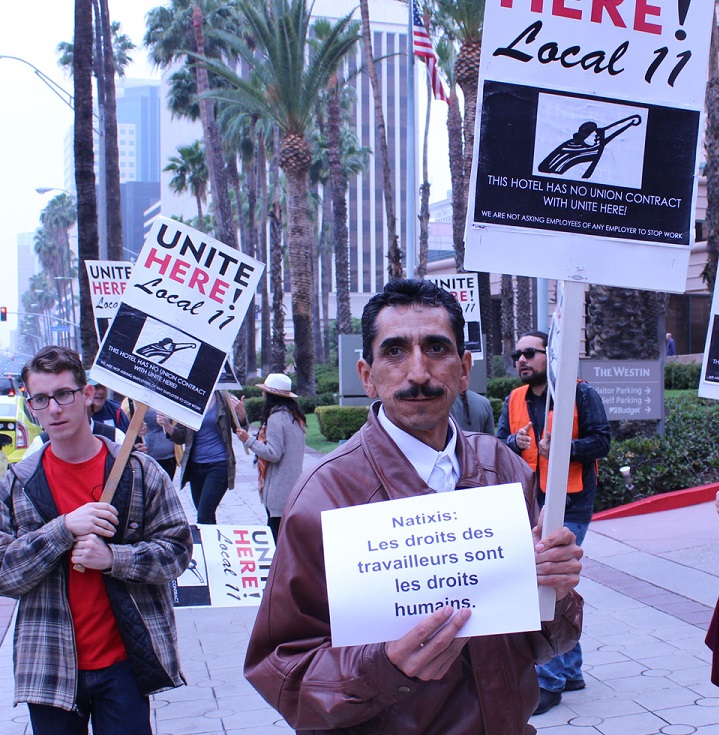 In May, a Westin Long Beach Hotel maid, Juana Melara, and waiter, Francisco Abdul Estin, traveled to Paris. However, this was not a typical European vacation for these two working people. They were there to discuss their working conditions and their right to join a union free of interference with Natixis, the French parent of a company that oversees their hotel.
"We have not been treated with the dignity we deserve as workers. We believe Natixis has the power to make labor practices at our hotel fair and just, and we only want the company to sit down and work with us to make this a reality," Melara said.
According to a class-action lawsuit filed last August, the Westin Long Beach has allegedly failed to pay housekeepers for all of the hours they spend prepping their work materials and has denied many workers—including housekeeping, restaurant and banquet employees—their legal right to rest breaks.
At the same time, these working people are wisely coming together in union to improve conditions. They have requested that hotel management agree to a fair process that will allow them to exercise their right to choose whether to organize in an atmosphere of mutual respect, without an anti-union campaign of fear and intimidation.
Instead of agreeing to this request, the hotel allegedly responded by threatening that workers' wages will be reduced if they form a union and has implied that a prominent worker leader is disloyal because of her support for unionization. In March 2016, after conducting its own investigation, a regional office of the National Labor Relations Board issued a complaint regarding these charges, which remain pending.
While this kind of union-busting behavior is all too common among U.S. employers, the French ownership and control of the company overseeing their hotel on behalf of the Utah Retirement System is subject to the Organisation for Economic Co-Operation and Development's Guidelines for Multinational Enterprises, which upholds a higher standard for protection of workers' rights than many domestic laws.
Natixis is not happy about this situation and wants to wash its hands of responsibility for conditions in Long Beach. Earlier this year, they rejected a request for a meeting with hotel workers who are organizing with UNITE HERE. The Boston Globe reported that, according to internal emails, an executive wrote: "We need to get those guys off the back of Natixis," and "Who knows what will happen if they come to Paris?"
In May, workers tried to find out. During the company's annual shareholders meeting, Natixis CEO Laurent Mignon rejected their request for dialogue.
Now UNITE HERE Local 11 is filing a complaint against Natixis and NGAM in France under the OECD Guidelines, alleging that they have breached their obligations to guarantee the right of working people to join trade unions and to meet the prevailing wage and benefit standards of comparable employers in the area.
This is a good use of international standards to help secure justice for working people exercising their right to organize their workplace in the United States.