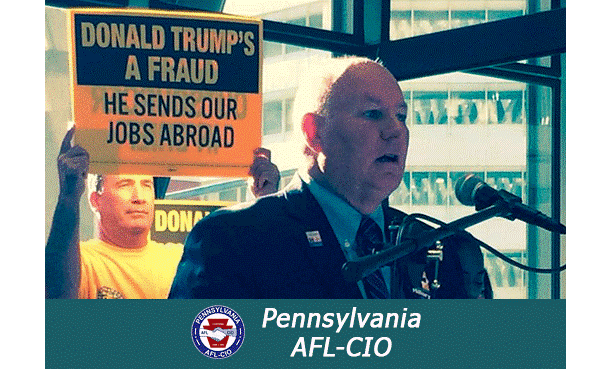 When they aren't on the job, working people put their time and effort into helping their community and working for the issues and political leaders who fight for us. Here are some recent examples of working people in action:
Pennsylvania AFL-CIO Rallies Against Trump: The Pennsylvania AFL-CIO joined labor leaders and union allies in Pittsburgh for a press conference in response to Republican presidential nominee Donald Trump's anti-worker rhetoric.
West Virginia AFL-CIO Hosts Picnic for Union-Endorsed Candidates: The West Virginia AFL-CIO and the South Central AFL-CIO hosted an old-fashioned family barbecue on Saturday so that West Virginians could meet the union-endorsed candidates.
Rhode Island AFL-CIO Rallies in Support of School Workers: The Rhode Island AFL-CIO hosted a rally in support of Pawtucket school lunch workers. The union's contract with Aramark expired in April 2016. Aramark has been seeking significant concessions from its employees.
Upper Peninsula Regional Labor Federation Hosts Annual Labor Education Conference: The Upper Peninsula Regional Labor Federation hosted its 25th annual Upper Peninsula Labor Education Conference. This year's conference focused on bridging the gap between generations of workers and included a speech from Liz Shuler, the first woman and youngest person to hold the office of AFL-CIO secretary-treasurer. "Michigan's a key state in the election, and we are trying to mobilize, educate and empower working people in the state," Shuler said.
Virginia AFL-CIO Rallies Against Right to Work: The Virginia AFL-CIO rallied union volunteer door-knockers against the Virginia amendment to place "right to work" in the state constitution.
Ohio AFL-CIO Opens Antrim Park Pier: The Ohio AFL-CIO, led by President Tim Burga, was joined by Columbus Mayor Andrew J. Ginther, Councilmember Jaiza Page and Recreation and Parks Department Director Tony Collins to cut the ribbon at the new, union-built Antrim Park Pier. More than 1,000 hours were volunteered and $15,000 of materials donated to replace the decking and railing of the 2,400-square-foot pier at Antrim Park in Columbus.