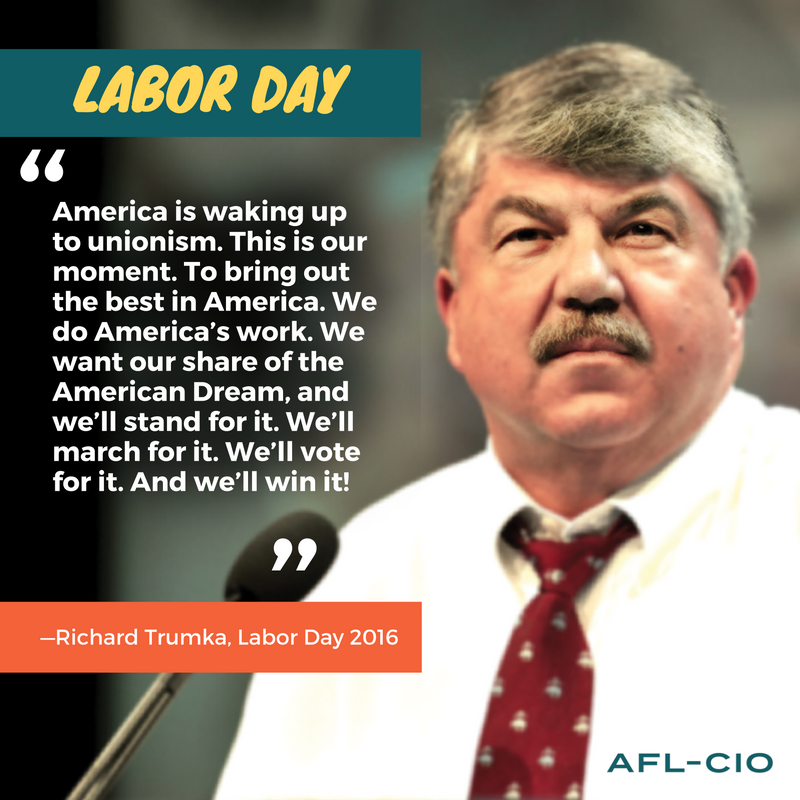 AFL-CIO officers, Richard Trumka, Liz Shuler and Tefere Gebre, traveled around the country today to celebrate working people and their accomplishments and to discuss the issues we care about most this election season.
Trumka joined Democratic presidential nominee Hillary Clinton and vice presidential nominee Tim Kaine in Cleveland, Ohio; Shuler joined Sen. Bernie Sanders (Vt.) and New Hampshire Gov. Maggie Hassan; and Gebre joined the Philadelphia AFL-CIO Labor Day parade.
Here are some highlights from their speeches:
Richard Trumka
Hillary Clinton and Tim Kaine are ready to rewrite the economic rules. They oppose the [Trans-Pacific Partnership] and support a new direction on trade. They will make the largest investment in infrastructure, public education, workforce development and manufacturing since World War II—to the tune of 10 million new jobs.
And Hillary Clinton and Tim Kaine are proud champions of collective bargaining—the single greatest tool for economic mobility and a growing middle class in the world.
---
What can I say about Donald Trump? You saw the convention here. It was like a bad horror movie. Trump says he's our friend. Let me ask you this.
What kind of friend wants to lower your wages? What kind of friend refuses to pay when he owes you money? What kind of friend sends your job overseas?
What kind of friend threatens your retirement? What kind of friend calls you names because of the way you look or talk or worship?
Trump is not our friend. He is a fraud.
---
Sisters and brothers, America is waking up to unionism. This is our chance. This is our moment. To bring out the best in America. To bring out the best in ourselves and each other. Our vision will lift us up. We can do it because we're the ones who drive the buses and run the trains. We build the bridges and lift the loads. We teach the classes and care for the sick.
We do America's work. We make America go. We want our share of the American Dream, and we'll stand for it. We'll march for it. We'll vote for it. And we'll win it! Thank you! Happy Labor Day!
Liz Shuler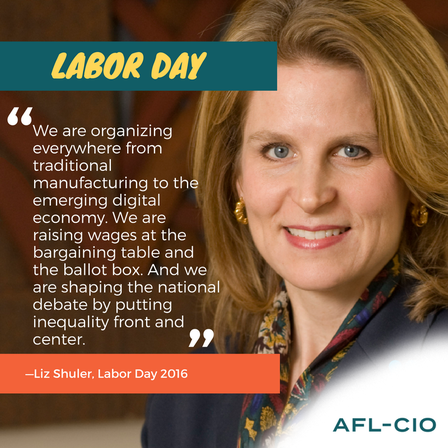 Here in New Hampshire, you've stopped right to work. You stood up to FairPoint [Communications]. You've laid the foundation for a raising wages agenda. And under a new [National Labor Relations Board] ruling, teaching assistants at Dartmouth and other private universities now have the right to negotiate together for better wages and benefits.
---
Trump is not just unfit to be president—his polices would be a disaster for working people. He loves "right to work." He has repeatedly mistreated employees at his own company. And he says wages are too high. Let me repeat that. He says our wages are too high.
Trump is fond of accusing Hillary Clinton of playing the "woman card." Well, I'm a woman. And I have a card. It's a card that means good wages and benefits and a voice on the job. It stands for solidarity and unity. It guarantees a safe workplace and a secure retirement.
I'm talking, of course, about my IBEW card. Millions of working women across this nation are proud to have union cards; and this November, we are going to beat Donald Trump like a drum!
---
Now winning the election—that's just the first step. We need to use our momentum to implement a working family agenda. That means strengthening the right to organize and bargain collectively. Listen to this: The attack on union rights costs nonunion workers about $133 billion in wages each year. So increasing our ranks isn't just good for the labor movement, it will boost our entire economy.
And speaking of good economics, it is time for a 21st century agenda for working women. Paid leave. Fair scheduling. Quality, affordable child care. And yes, EQUAL PAY FOR EQUAL WORK.
Tefere Gebre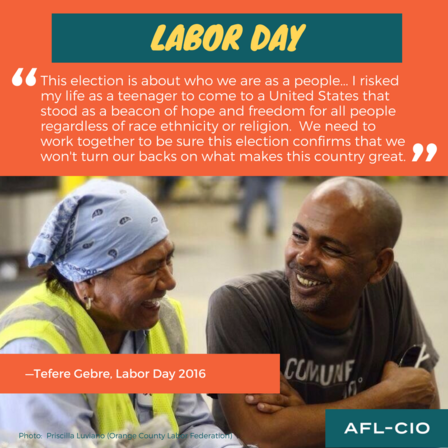 This election is about who we are as a people... I risked my life as a teenager to come to a United States that stood as a beacon of hope and freedom for all people regardless of race ethnicity or religion. We need to work together to be sure this election confirms that we won't turn our backs on what makes this country great.
This Labor Day, we are putting our agenda first. We want an economy that works for all of us. We want to be free. To work and worship and love as we see fit. We want to be heard. In board rooms and classrooms and courtrooms. We want the American Dream. That's what we are fighting for.