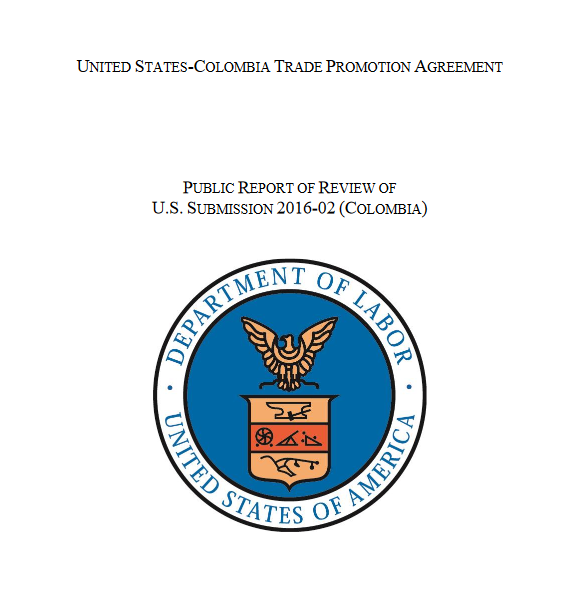 Yesterday, the U.S. Department of Labor released a report in response to the complaint filed by U.S. and Colombian unions detailing systematic labor rights violations in Colombia. The U.S. government acknowledged many of the serious issues raised in the complaint, including inadequate labor inspections and enforcement actions, abusive forms of subcontracting that prevent union organizing and keep the majority of Colombian workers in precarious jobs, and impunity for threats and violence against trade unionists, which creates a climate of fear.
The report is an important first step toward ensuring Colombian workers can fully and freely exercise their labor rights, but it remains to be seen how the process will unfold. In that past, labor cases have been met with years-long delays that stymie any hopes of achieving meaningful changes through trade agreements.
In a welcome development, the report recommends a relatively brief nine-month initial dialogue period, but it's not clear what will happen after that. The two governments already have been in consultations regarding labor rights for years, starting before the signing of the 2011 Colombia Labor Action Plan. The U.S. government chose not to pursue the specific kind of consultations that would allow for swiftly moving to dispute resolution at this time but could do so in the future.
Colombian workers face huge barriers to exercising their rights to freedom of association and collective bargaining. The report recognizes the failure to prosecute violence against trade unionists, although it does not explicitly address violence by Colombian security forces, which we identified in our complaint as an ongoing problem. The costs of further delays are very real and often tragic. Colombia's workers have been terrorized and denied their basic rights for decades, and now is the time to keep the pressure on and ensure both governments work toward delivering basic justice far too long denied.