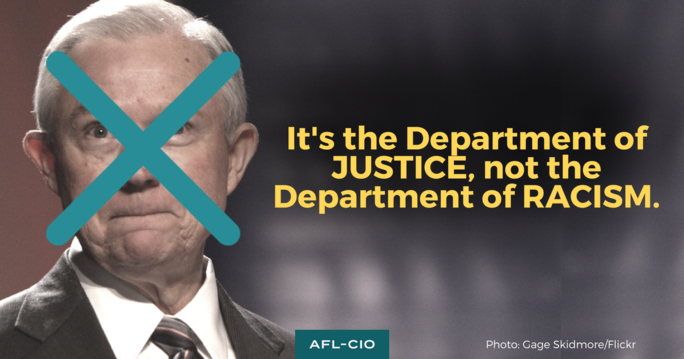 Every week, we bring you a roundup of the top news and commentary about issues and events important to working families. Here's this week's Working People Weekly List.
What if Jeff Sessions Were Your Boss?: "Sen. Jeff Sessions (R-Ala.) was nominated as attorney general, and hearings for his nomination are currently underway. Many are discussing the long, terrible record that Sessions has, but we thought it would be interesting to imagine what it would be like to actually work for Sessions. This is speculative fiction, of course, but based on the things he's said and done over the years (click on the link after each entry to read more about Sessions and that topic). But here's what we think it could be like to work for Sessions."
Democrats and Allies Wage Fight to Derail Labor Secretary Pick: "Democrats on Capitol Hill, together with labor groups and other allies, are waging an unusually aggressive campaign to derail the nomination of Andrew Puzder as labor secretary. The nomination battle has become a proxy for a larger struggle between labor and industry groups to shape public opinion on issues crucial to both. The sophistication and intensity of the efforts against Mr. Puzder—which also include a slick website, antilaborsecretary.org—was predictable because labor groups had poured enormous resources into a campaign against the fast-food industry in recent years."
Pay Women More If You Want a Stronger Economy: "During the presidential campaign, Donald Trump and his daughter Ivanka promised to improve the lives of working women. The campaign vowed to align federal policies with the needs of women and families. President-elect Donald Trump would be smart to take action on these and other issues—they are not only for the good of women and their families, but for our economy. The most recent economic indicators make it clear that President-elect Trump will be inheriting an economy far stronger than the one facing President Obama when he took office nearly eight years ago. Yet, there is more work to be done to boost incomes and expand the middle class."
These Are the Most Dangerous Jobs in America: "'The things that wouldn't kill a younger person, like a fall or slip, can kill an older person,' said Peg Seminario, the safety and health director at AFL-CIO, the union federation. Fatal work injuries have largely held steady over the past six years, but the small uptick that started in 2014 occurred almost entirely in older workers."
Labor Department Aims to Protect Health Care Workers: "'Workplace violence is a serious occupational hazard that presents a significant risk for healthcare and social assistance workers,' [David] Michaels wrote Tuesday in a letter to the AFL-CIO. 'Evidence indicates that the rate of workplace violence in the healthcare and social assistance sector is substantially higher than private industry as a whole,' he added. This comes in response to petitions from the AFL-CIO and National Nurses United to create a workplace violence standard for health care workers."
How Obama Used the Bully Pulpit to Help Workers: "After President-elect Donald Trump successfully bullied a manufacturing firm into keeping a plant in the United States last November, some people wondered why President Barack Obama hadn't similarly made an example out of a business or two and taken a stand for workers."
U.S. Postal Service to Halt Retail Sales at Staples Stores After Union Complaints: "When the U.S. Postal Service and Staples birthed a retail partnership in 2013, USPS said 'it's time to celebrate.' But now, that program has been sentenced to death and it is postal labor leaders who are rejoicing. They cheer the demise of a program that had been the target of a vigorous campaign by postal unions that don't want the post office privatized."
AFL-CIO to Take On 'Reckless' GOP Push to Repeal Obamacare: "The AFL-CIO, a union that has had its share of issues with elements of the Affordable Health Care Act, is now poised to become one of its biggest defenders on Capitol Hill. In a letter to be sent Monday to House and Senate lawmakers, labor leader Richard Trumka blasted the 'reckless' Republican-led effort to repeal Obamacare 'with breathtaking speed'—and without providing a replacement program."
Union Members Say Lawmakers Launching 'Attack on the Working People': "Bill Londrigan, president of the Kentucky State AFL-CIO, said some union members who came to the Capitol in recent days to protest legislation are social conservatives who voted for Republican politicians. Now they're watching a newly Republican-led legislature pass measures that will cut their paychecks, Londrigan said. 'Believe me, we're well aware that many of our members went to the polls last November and voted the straight Republican ticket to elect Donald Trump, not thinking about who else they were putting into local and state office and how that was going to impact their families,' Londrigan said in an interview."
New Report Details Systematic Labor Rights Violations in Colombia: "Yesterday, the U.S. Department of Labor released a report in response to the complaint filed by U.S. and Colombian unions detailing systematic labor rights violations in Colombia. The U.S. government acknowledged many of the serious issues raised in the complaint, including inadequate labor inspections and enforcement actions, abusive forms of subcontracting that prevent union organizing and keep the majority of Colombian workers in precarious jobs, and impunity for threats and violence against trade unionists, which creates a climate of fear."
'Politicians Didn't Create the Labor Movement, and...Won't Destroy the Labor Movement': "Hundreds of union members who rallied at Kentucky's Capitol against a trio of Republican union-busting bills surely knew the legislation was unstoppable."
Union Plus Scholarships Provide the Keys for Immigrant Families to Unlock the American Dream: "Immigrants who have come to our country in search of better opportunities have been the economic backbone of America for well over a century. In the face of a difficult job market for many immigrants, their keys to the American Dream may not be readily available."
Andrew Puzder's Employees Explain Why He's the #AntiLaborSecretary: "Yesterday, working people who have been employed by fast-food CEO Andrew Puzder shared their stories with Senate Democrats. They made it clear why Puzder is being called the #AntiLaborSecretary. Here are some of the key tweets that captured the hearings."
Kentucky State AFL-CIO Responds to Republican Assault on Working People: "After Republican legislators in Kentucky passed several anti-worker laws, Kentucky State AFL-CIO President Bill Londrigan made the following statement."
AFL-CIO Tells Congress No Repeal Without Replacement of ACA: "Today, as Congress debates the future of the Affordable Care Act, the AFL-CIO sent a letter to Senate Majority Leader Mitch McConnell (R-Ky.), Speaker of the House Paul Ryan (R-Wis.) and all members of the U.S. Senate and House of Representatives."