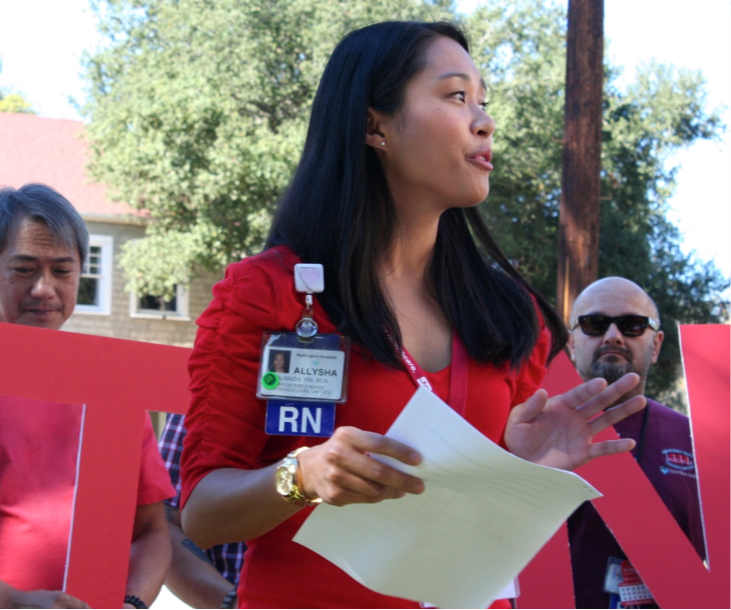 The Berger-Marks Foundation has announced the winners of its 2017 awards, recognizing the leadership of young women in the fight for labor organizing, immigration, racial justice, prison reform, and the right for decent health care and working conditions. Of the winners, the Berger-Marks Foundation said: "The winners of the Edna Award for Social Justice and the Kate Mullany Courageous Young Worker Awards have each stood up for justice and workers' rights in the face of enormous odds." The recipients will be given their awards at a reception on Feb. 9 in Washington, D.C.
Linda Foley, president of the Berger-Marks Foundation, said: "We honor these young women for their steadfast commitment to leading the way for social justice and workers' rights. Just as Edna Berger broke boundaries to accomplish her goals, these award winners are inspiring the next generation to work for a more equitable world."
The Edna Award for Social Justice
This year's winner is Angelica M. Clarke, executive director of the Albany Social Justice Center. The award recognizes women 35 or younger who are distinguished social justice leaders. More about Clarke:
At age 26, Ms. Clarke directs one of New York state's long-standing hubs for social justice organizing, the Albany Social Justice Center. While still a student, she co-founded Save Our SUNY, which organized against tuition price increases and cuts in academic programs, and New York Students Rising, a statewide coalition that advocated for quality affordable higher education and student empowerment. After graduation, she organized for the Graduate Student Employees Union (GSEU/CWA Local 1104) and helped bring a new labor contract for SUNY graduate students. She co-founded the Capital Area Against Mass Incarceration (CAAMI), a leading upstate New York voice on issues of prison justice and police violence, and the Upstate NY Black Lives Matter chapter. Throughout her work, Angelica M. Clarke has been able to inspire young activists while simultaneously building relations with, and creating bridges to, older generations of social justice advocates.
The runners-up for the Edna Award are:
Jessica Carmona Cabrera, the central California regional coordinator for the California Immigrant Youth Justice Alliance, an immigrant, youth-led alliance that advocates and organizes for immigrant rights in California; and
Cathy Dang, the executive director of CAAAV: Organizing Asian Communities, which works to build grassroots community power across diverse poor and working-class Asian immigrant and refugee communities in New York City.
The Kate Mullany Courageous Young Worker Awards
The award is named for Mullany, a young laundry worker who organized one of the first women's unions. It is given to women 35 or younger "who have stood up for workers' rights and organized their own workplaces." This year's winners are:
Jessica Ellul of Connecticut Health Care Associates (CHCA)-AFSCME is a unit coordinator on the oncology ward at Danbury Hospital in Danbury, Connecticut, who spent three years tirelessly fighting for—and ultimately winning—a union for the service and maintenance staff at the hospital.
Angela Melvin of TU-CWA Local 6547 is a worker at the Wichita, Kansas, T-Mobile call center, and the driving force in trying to organize a union despite aggressive anti-union activity.
Allysha Shin of California Nurses Association (CNA)/NNU is a registered nurse, who helped lead a union-organizing drive at Huntington Hospital in Pasadena, California, in part to address safety lapses in the Intensive Care Unit, and was fired for her organizing efforts.
Learn more about the awards and winners.